AAMU Physicists Win $2.83M Award from DOE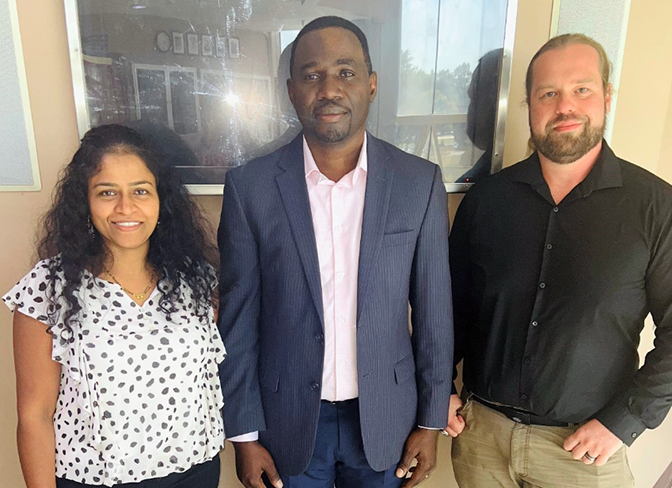 October 18, 2022
Funding Five-Year Consortium Project
Alabama A&M University physicists have been awarded nearly $3 million by the U.S. Department of Energy - National Nuclear Security Administration (NNSA).
The $2.83 million award will fund a five-year consortium project starting this month. The consortium, titled "MSIPP Partnership for Radiation Studies (PaRS)," is led by Dr. Stephen Babalola, an assistant professor of physics. Dr. Padmaja Guggilla, interim chair of the Department of Physics, Chemistry and Mathematics, and Dr. Jonathan Lassiter, program manager are Co-PIs on the grant. The PaRS consortium consists of Fisk University, Savannah River National Laboratory, and Pacific Northwest National Laboratory as its other partners.
The PaRS consortium aims to support the research, outreach and recruitment activities of NNSA among its members through a sustainable minority student scientists' interactive pipeline, all while advancing the science of radiation.
The MSIPP-PaRS consortium research award will provide training to students in the discovery and development of novel radiation detection materials, crystal growth, Improvement of materials through characterization, radiation detector devices development, radio nuclide sampling and Monte-Carlo simulation of radiation interaction.  Moreover, the award will allow for students' recruitment and facilitate activities through workshops and seminars at K-12, regional community colleges, and member minority-serving institutions (MSIs), thereby creating educational bridges.
This project will assist minority students' inclusion into STEM disciplines and students' transitions from undergraduate to graduate programs, along with absorption into the national laboratory workforce through student recruitment and education, joint research between NNSA laboratory/plant scientists and the PaRS consortium members (MSI STEM students and MSI faculty) and student training.
With this project, Dr. Babalola anticipates a strong collaboration between the National Laboratories and AAMU that will create internships for AAMU STEM students and jobs at NNSA for graduates.
CAPTION: (l-r) Dr. Padmaja (Paddy) Guggilla, Dr. Stephen Babalola and Dr. Jonathan Lassiter.
###