President Addresses Last Conference with "Mixed Emotions"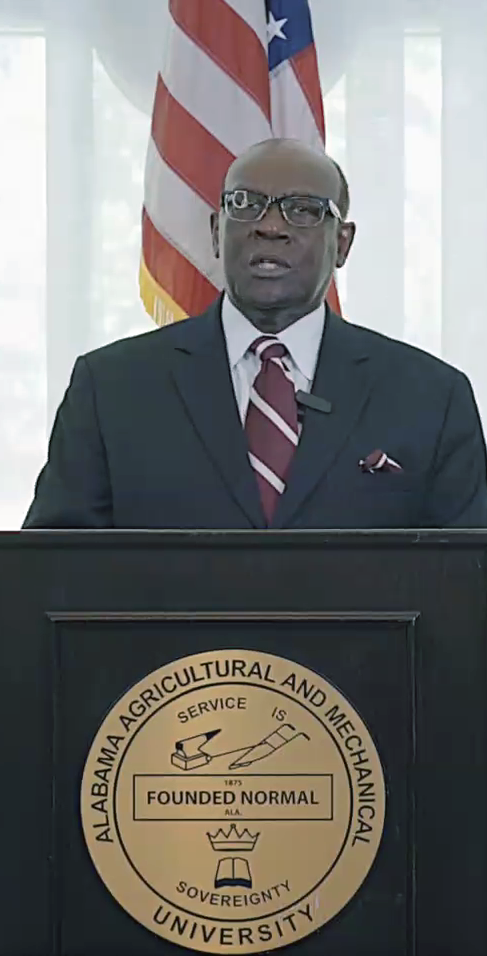 August 24, 2021
"A&M Will Always Be a Part of the Hugine Family"
The faculty and staff of Alabama A&M University participated in a virtual school opening conference. Due to the COVID-19 pandemic and its Delta variant, university officials held the two-hour event virtually on Tuesday, August 17, moderated by Dr. Daniel K. Wims, provost and vice president for academic affairs.
In her greetings as President of the Faculty Senate, Dr. Jeanette Jones encouraged faculty and staff to remain optimistic about the institution's future. She went on to praise retiring AAMU President Andrew Hugine, Jr., and his team for their support of faculty initiatives and benchmarks over a period of 12 years.
Jones especially commended Hugine on his role in shoring up employee salaries and putting on track an across-the-board six percent raise for fall 2021, along with a long-awaited salary schedule. As the new year continues, Jones said the Faculty Senate will direct its focus on reviewing the faculty handbook and calling for recommendations.
Malcolm Brasher, president of the Staff Senate, welcomed webinar attendees and thanked them staff for the role they played and the support they gave in maneuvering through the COVID crisis.
Dr. Lynda Batiste provided information about upcoming activities scheduled within the Business and Finance division. As head of the major unit, Batiste's report included updates on year-end encumbrances; campus road paving projects; the CONCUR platform; new options for student balance payment; driver training for new electric buses; and the distribution of salary adjustment letters in September.
Student Affairs personnel hosted a virtual welcome week for students, also due to pandemic, stated Dr. Kyla Pitcher, interim vice president of student affairs. Sanoyia Williams, director of veteran affairs and disability services, gave a detailed presentation on autism among college students. The two were followed by presentations from General Counsel Angela Debro, who discussed campus COVID-19 protocols, and the Student Health Center's Carlquista Slay, who discussed the Red Flag Alert System, suicide awareness efforts, and new employee assistance programs.
Upon his arrival in July 2009, Hugine found a beautiful institution whose challenges had to be swiftly addressed. He immediately set out to deal with AAMU cash reserves; increase enrollment; delete stagnant programs and introduce promising new ones; right-size the faculty and staff roster; launch and complete a capital campaign; start an annual fund; improve the overall organizational structure; and other actions which led to even further accomplishments.
In his last major address to faculty and staff before retiring at the end of December 2021, Dr. Hugine stated that he is looking forward to becoming part of the University's rich legacy and passing the baton of leadership. He told AAMU faculty and staff that they, too, are running a race and should "not drop the baton."
Following a listing of sizeable challenges and hard-won progress made during his administration, Hugine concluded: "AAMU will always be a part of the Hugine family."
- J. Saintjones