AAMU Announces Interim AD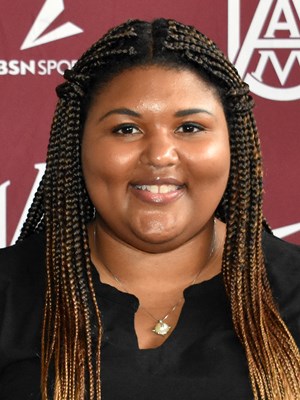 July 14, 2022
Current Associate AD Will Serve as Interim AD
Huntsville, Ala. ---- Alabama A&M University has announced that Ka'Lisa Stanfield will serve as Interim Athletic Director, serving in the post vacated by Bryan Hicks, who assumed a position at the Southwestern Athletic Conference (SWAC). Stanfield currently serves as Associate Athletic Director and Senior Woman Administrator at AAMU.
Stanfield joined AAMU last summer following a brief stint at NCAA Division II Arkansas-Monticello, where she boosted her experience in compliance and academics in her role as Assistant Athletic Director. In that post, she was responsible for softball and men's and women's golf, while managing the Department's efforts with transcript and initial eligibility evaluations, as well as review and approval of official and unofficial student-athlete visits. She also monitored progress to degree, generated progress reports, handled waivers, assisted with Title IX training and provided rules education for coaches and staff.
Prior to her role at Arkansas-Monticello, Stanfield rose from scholarship/tour coordinator to compliance/academic intern to academic counselorspecial events coordinator. As a compliance/academic intern, in particular, she completed APR transfer verifications forms, reviewed waiver documents and completed transfer evaluations for mid-year transfers.
Stanfield earned the Bachelor of Science degree in Health and Physical Education with a focus on Exercise Science from Arkansas-Monticello in May 2014. She completed the Master of Science degree in Sports Management from Southern New Hampshire University in December 2016.
An expeditious but broad national search to fill the post began last week with an ambitious aim of naming the new Athletic Director by early August. Members of the search committee include the following:
Coach Rose Magers-Powell, Head Volleyball Coach, Chair
Coach Connell Maynor, Head Football Coach, Co-Chair
Vice-President Jamal Ali, Marketing, Communications and Advancement
Betty Austin, Former AAMU Athletic Director/Coach
Geremy Cheeks, Faculty Athletic Representative
Troy Garner, Alumnus and Community Leader
Coach Otis Hughley, Jr., Head Men's Basketball Coach
Coach Elliott Jones, Head Baseball Coach
Lynn Sherrod, Former AAMU Trustee, Ex-Officio
Ka'Lisa Stanfield, Associate Athletic Director, Senior Woman Administrator
Coach Margaret Richards, Head Women's Basketball Coach
Brenda Williams, Registrar
###