AAMU Receives $5M Award from Dept. of Army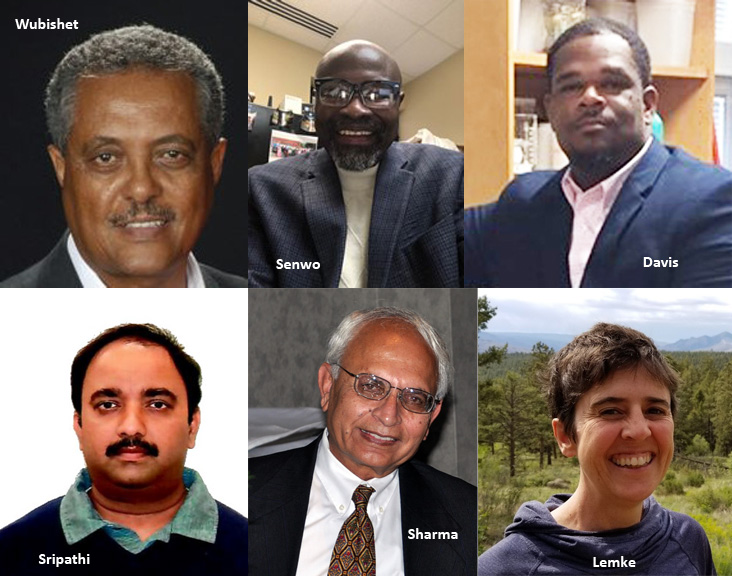 November 18, 2020
Strengthening Native Soils for Defense
A team of six Alabama A&M University scientists have been awarded a major grant through the Department of the Army.
AAMU scientists (from top, l-r) Wubishet Tadesse, Zachary Senwo, Dedrick Davis, Venkateswara Sripathi, Govind Sharma, and Dawn Lemke were awarded a new Research and Development Cooperative Agreement grant totaling $5 million over a four-year period from the Department of the Army, U.S. Army Engineer Research and Development Center (ERDC).
AAMU, State University of New York (SUNY) at Stony Brook, and Virginia Tech, will engage in scholarly research to investigate using biopolymer additives to strengthen native soils to enhance military earthen defense structures.
Earthen structures are critical systems directly associated with military missions, especially on battle fields, to serve as barriers, protective berms, defensive positions, and military trainings. The AAMU researchers will use innovative techniques that trigger native microorganisms to generate large quantities of biopolymers/bio-based additives as potential stabilizers for earthen structures and explore their unique properties to adapt to changes in various environments.
The cooperative agreement will result in enhancing AAMU's research and training of a new generation of professionals, especially African-Americans with interdisciplinary mindsets, in various disciplines that include engineering, material science, soil and environmental systems significant for military defenses.
The partnerships are greatly beneficial and in adherence with the U.S. DoD's Education Partnership Act authorizing and promoting partnership agreements between defense laboratories and educational institutions for the purpose of enhancing studies in various scientific disciplines.
For additional information, contact Dr. Wubishet Tadesse at wubishet.tadesse@aamu.edu.