Wims Greets Alumni Advisory Council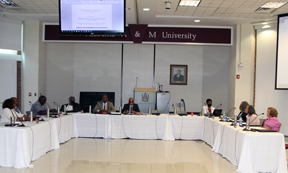 August 08, 2022
PAAC Holds First Meeting
Alabama A&M University President Daniel K. Wims met with his President's Alumni Advisory Council (PAAC) for the first time on Friday, August 5, in the Clyde Foster Auditorium, located within the College of Business and Public Affairs complex. PHOTOS
Nearly all members of the 15-person advisory group met for an inaugural meeting designed to set parameters for the team. Attendees received a copy of proposed bylaws, the University's Points of Pride document, and they were presented opportunities to become engaged with key administrative initiatives.
Among the initiatives were the Marching Maroon and White Band's participation in the 2023 Macy's Thanksgiving Day Parade; expansion of corporate partners; enhancing research opportunities; increasing contributions; career opportunities for students; community engagement; season tickets; 150th anniversary; Event Center naming; and others.
The first slate of PAAC officers include Henrika Buchanan, president; Julian Green, vice president; Jermaine Ralph, secretary; and Sarah Hrobowski, parliamentarian.
CAPTION: Pictured (l-r): A. Jackie Robinson (assistant to the president); Alabama A&M University President Daniel K. Wims; Ronald McIntosh, Dorothy Brice, Sandra Stubbs (Alumni Affairs director), Sarah Hrobowski, Melissa Presnell, Alice Sams, Sandra Lyles-Jackson, Henrika Buchanan, Julian Green, Jamal Ali (VP, Marketing, Communication and Advancement), Jermaine Ralph and Dr. Roderick DeWayne Watts (trustee). Online: Karla Baker, SanYvette Williams-Foy and Alex Okeke. Photo by J. Saintjones