AAMU Launches New Grad Programs in Engineering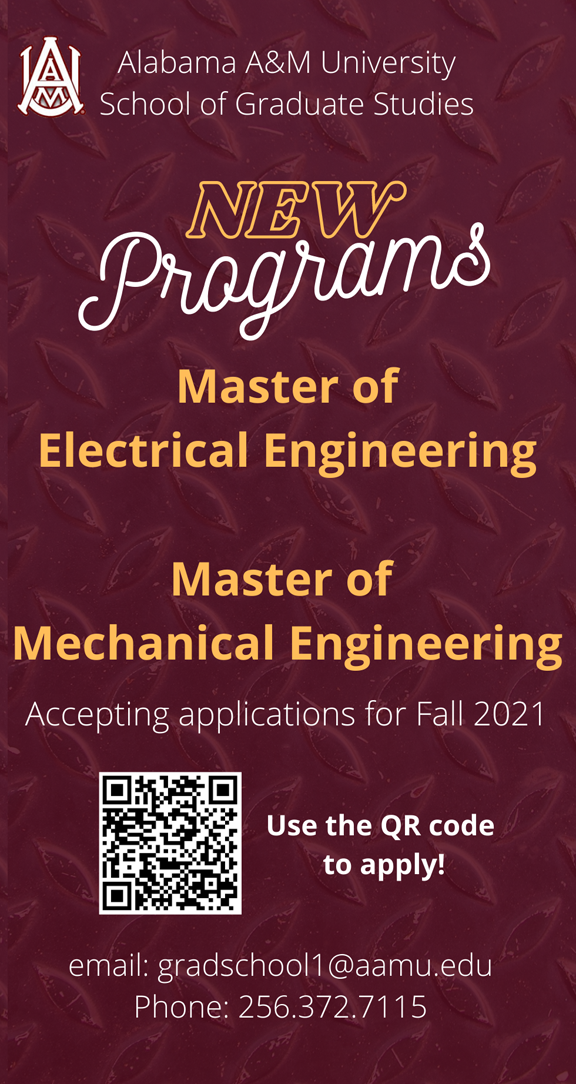 March 31, 2021
All About ME+EE!
When next fall rolls around, Alabama A&M University officials will introduce new classes for two master's level programs in engineering, according to approved submissions by Provost Daniel K. Wims to the institution's accrediting body.
The Office of Graduate Studies will add program curricula for a Master of Science in Electrical Engineering (MSEE) and a Master of Science in Mechanical Engineering (MSME). Planning for the high-demand programs began at the departmental levels more than two years ago.
Offered under the guidelines of the Southern Association of Colleges and Schools Commission on Colleges (SACSCOC), the University's accrediting body, both programs are designed to meet the needs of industrial and government agencies for highly qualified and diversified engineering professionals.
The graduate program in electrical engineering, for instance, will enable students to pursue careers in electrical, electronics and computer engineering industries, while also providing a foundation for doctoral pursuit. Similarly, the mechanical engineering master's degree program will prepare graduate students for the needs of such varied engineering sector employers as aerospace, automotive, communication, control, computer, defense, electronics, energy, power generations and many others.
According to Dr. Zhengtao Deng, professor and interim dean of the College of Engineering, Technology and Physical Sciences, both programs will leverage the faculty within the current respective and successful undergraduate curriculums, and the new graduate programs will address "a clear and present need" for advanced training in Huntsville and throughout Alabama.
"This is an exciting time for our engineering programs at A&M," commented Deng. "Our success in this endeavor was made possible by campus-wide support, and we are grateful for it. We are committed to providing the best graduate education and opportunities for our students."