AAMU, Local Brewery Create New Beer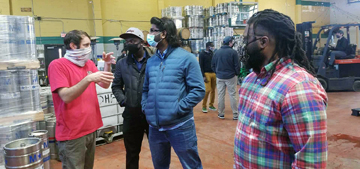 May 03, 2021
HBCU Gets Its Own Beer!
HBCU Has Its Own Beer!
Huntsville, Ala. ---- Alabama A&M University officials have announced an innovative collaboration with Huntsville-based brewery Straight to Ale to create a new American Lager. The exciting initiative merges the brewing craftsmanship of Straight to Ale with the academic prowess of AAMU's food science and MBA programs.
The agreement allows AAMU food science students to create an AAMU-inspired beer in collaboration with the Straight to Ale brewing team. The project also received support from a group of MBA students who assisted in creating the product name and awareness campaign.
"Alabama A&M University produces market leaders in food science and business that are able to obtain leadership roles in many of the major food and beverage companies throughout the world," stated AAMU President Andrew Hugine, Jr. "As such, we are excited about the opportunities that this initiative provides for the students of Alabama A&M."
This is one of few brewing collaborations nationally in which industry has aligned with higher education to create a new beverage for the market. By all indication, Alabama A&M would be the first Historically Black College or University (HBCU) to have its own beer.
"Straight To Ale is very excited to be working with Alabama A&M on this special brewing project. The process of working hand in hand while crafting the recipe, marketing strategy, etc., has been very rewarding for our staff and a source of pride for the entire STA family," said Straight to Ale Brands owner Dan Perry. "We cannot wait to release the finished product in the very near future."
Alabama A&M will also receive a contribution for each case sold during the life of the product.
AAMU Vice President for Marketing, Communication & Advancement, Archie Tucker, II, stated, "This collaboration is an amazing opportunity for our faculty and students to put theory to practice. It allows us to diversify our institutional revenue by connecting our world class faculty to industry experts, while also producing an amazing product that can be enjoyed throughout the state and beyond."
Upon full production, the beer is expected to be sold at multiple locations throughout the State and will be available in May 2021 at Straight to Ale, located at Campus 805 in Huntsville. Additional details will be announced at a later date. For more information, please contact michael.colston@aamu.edu, josh.herring@aamu.edu (Dr. J. Herring, project scientist) or martha.verghese@aamu.edu (Department Chair - Dr. M. Vergese).
Caption: Straight to Ale representative discusses process with AAMU students.
###