It's NYC in 2023! AAMU Band Macy's Bound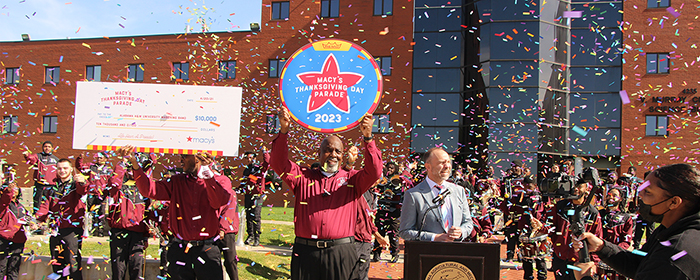 April 20, 2022
Making History: Wright, Band Excited about Macy's Thanksgiving Day Parade
MMW Selected for 2023 Macy's Thanksgiving Day Parade
The AAMU Marching Maroon & White Band (MMW) will take part in the 2023 Macy's Thanksgiving Day Parade!
PHOTOS
(J. Saintjones) [See
VIDEO
by Student Reporter Demetrius Hurry, II]
Director of Bands Carlton Wright, let the campus know there would be a special announcement at 9 this morning on The Quad.
Wright had the band lined-up and welcomed AAMU President Daniel K. Wims and community dignitaries before introducing Wesley Whatley, creative producer for music and talent at Macy's.
Whatley surprised students when he announced that for the first time in AAMU's history, Macy's has selected the AAMU Marching Maroon & White Band to perform in the Macy's Thanksgiving Day Parade.
To keep the official announcement a secret, Wright said he hinted to the band they might be getting a new band building.
Whatley also presented a $10,000 check to kick off the donation drive to get students to the parade next year.
Whatley says Macy's selected 10 bands from across the country to perform, and just three university bands.
The 97th Annual Macy's Day Parade is November 23, 2023, in New York City.
NBC will air the parade live from 8 – 11 a.m. CST, as it has since 1948.
Congratulations

, MMW and Go Bulldogs!