"Bulldog Builds": AAMU Reaches Out to DBEs and Small Businesses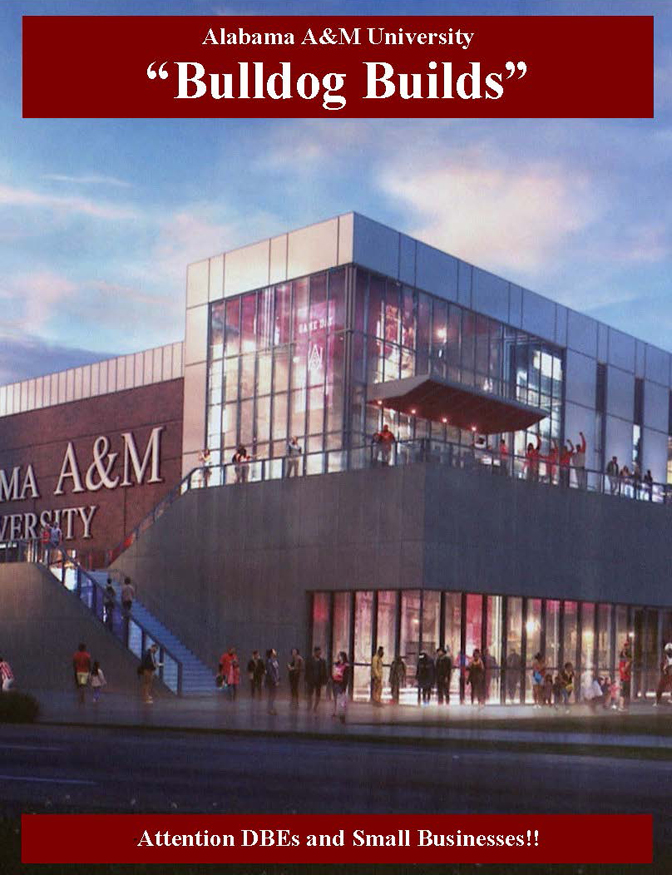 May 21, 2020
Working Together to Build "The Hill"
Huntsville, Ala. --- In an effort to expand opportunities for Disadvantaged Business Enterprises (DBEs) and small businesses to conduct business with Alabama A&M University, school officials will hold an important two-hour virtual "Bulldog Builds" informational session on the subject on Thursday, May 21, at 1 p.m. Registration is now open at https://bulldogbuilds.eventbrite.com.
AAMU welcomes DBEs and small businesses to participate in a session on upcoming capital projects and procurements. The range of topics will include the following:
Overview of Expenditures and the Process to Work with AAMU;
Capital Building Projects in the Pipeline and the Bidding Process;
Capital Projects and Process to Work with Turner Construction; and
Overview of Hotel and Retail Development Project and the Process to Work with Hunt Services
Among the presenters at the session are: Dr. Del Smith, dean, AAMU College of Business and Public Affairs/Executive Director, AAMU Economic Development; Jeff Robinson, interim director, AAMU Purchasing/Director, AAMU Property Management; Brian Shipp, director, AAMU Facilities & Administrative Services; Danielle R. Barnes, director, ALDOT-AAMU DBE Supportive Services Program; Dr. Teresa Merriweather-Orok, director, AAMU Center for Entrepreneurship, Innovation and Economic Development (CEIED); Tyce Hudson, business development manager, Turner Construction; and David Hunt, developer, Hunt Services, Inc.
In addition to AAMU and its College of Business and Public Affairs, sponsoring entities include Turner Construction, the Alabama Department of Transportation and Hunt Services, Inc.
Pre-Registration is required to attend this event. Once registered, registrants will receive information via email with instructions for joining the Zoom Meeting. For more information, please contact ALDOT-AAMU DBE Supportive Services at aamudbe@aamu.edu or (256) 372-8667.
###