AAMU Alum Chairs State's Top Higher Ed Commission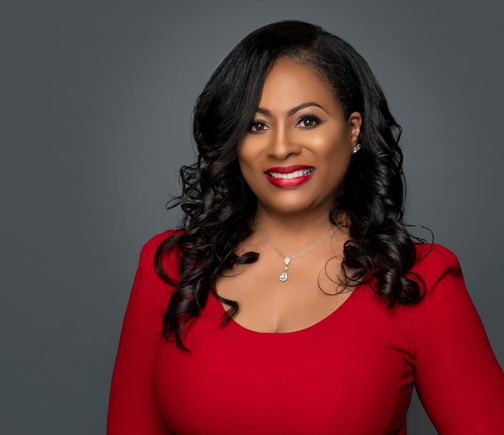 September 26, 2022
AAMU Alum Chairs State's Top Higher Ed Commission
by Jerome Saintjones
Alabama A&M University was 100 years old by the time it was granted authorization to form its own Board of Trustees in 1975, in effect giving the institution its own voice. Prior to that landmark year, Dr. Richard D. Morrison, AAMU's fifth president, had been able to meet with the state's education power brokers only twice in a span of 22 years.
Thirty years following the formation of AAMU's Board of Trustees, a young and ambitious Miranda Bouldin-Frost would not only earn her degree in logistics at AAMU, but she would ultimately emerge as the founder and CEO of LogiCore, a Huntsville-based logistics and engineering firm. Now, just a few years shy of its 150th anniversary, AAMU boasts an alumna who serves as board chair of the 12-member Alabama Commission on Higher Education.
"I am looking forward to continuing relationship building with the institutions throughout the state," commented Bouldin-Frost. "As the coordinating board for Alabama's public two- and four-year schools, it is important to have open dialogue about issues facing higher education and the tools that are needed to ensure student success. I think my past experience in working with volunteer boards in various leadership capacities will be an asset."
The AAMU alumna admitted that she has always been "education and community-minded," with a knack for combining and utilizing her own degrees and interest in the value of education to provide "an unbiased view of academic programs sponsored by institutions." Bouldin-Frost also noted that as a business owner, she understands the importance of the relationship between education and the business community.
Indeed, Bouldin-Frost has been a commissioner on the board, representing Congressional District five, since her appointment by former Governor Robert Bentley in 2015. Dr. James E. "Jim" Purcell is ACHE's current executive director and, for the last five years, the native Alabamian has been responsible for carrying out the organization's day-to-day operations and strategic plan.
"I served on the board committee that hired Dr. Purcell in 2017," Bouldin-Frost recalled. "He has brought 30 years of higher education expertise from other states to Alabama. He has been forthright in keeping the board apprised of important issues, and several of the initiatives that he has used previously have been successfully implemented at ACHE."
One of the key initiatives slated for championing by the ACHE board will be the "All in Alabama" campaign that will entice the state's college graduates to launch and maintain their careers in Alabama.
Bouldin-Frost's own life provides the perfect script for the endeavor. Also an Alabama native, she attended Alabama public schools before pursuing an undergraduate degree at Alabama A&M. She then anchored her career in the Huntsville area, where she has become a corporate fixture and has successfully reached back to help several young men and women.
"The All in Alabama campaign is a must for Alabama's continued economic growth," said Bouldin-Frost. "As a business owner, I can say first-hand that finding qualified employees is a top priority for both small and large businesses." She went on to express excitement about the opportunities that will benefit students and employers through the All in Alabama initiative.
"The campaign will truly be ALL inclusive," Bouldin-Frost emphasized. "It is inclusive for students entering the workforce (Retain); past graduates who have left the state and are encouraged to return (Recall); and those who started but stopped their higher education pursuit (Re-Engage). It will be a boost for job seekers and employers, as well as the state as a whole. I look forward to promoting the campaign throughout the state."
A previous ACHE initiative that she is proud to have played a role in facilitating is the Alabama Math and Science Teacher Education Program (AMSTEP), which Bouldin-Frost describes as a loan repayment program for K-12 math, science or computer science teachers.
"There is a particular emphasis on underserved areas to ensure that students have access to quality classroom instruction," she explained. "We have seen consistent increases in student aid funding for five years. Also, the Alabama Student Assistance Program (ASAP) is administered through ACHE, and we lobby each year to increase student funding in ACHE's budget."
Continuing to move ACHE forward, however, requires a team effort, and Bouldin-Frost is appreciative of the mentorship she has received toward that end from Stan Pylant, general manager of WHNT-TV 19 in Huntsville, Ala. "Stan has been instrumental as an advocate for higher education for the State of Alabama and has been very helpful during my navigation as a commissioner." She also praised the leadership of Purcell, Margaret Gunter and "the entire ACHE" team for "working tirelessly communicating the needs of the state."
Although she is confident that Alabama has a top-notch higher education system that prepares its students for the workforce, Bouldin-Frost also expects the issue of affordability to emerge center stage during her tenure.
"We are all aware that an education comes with a price tag, and it is a pretty hefty one in Alabama," said the administrator and entrepreneur. "Tuition increases are taxing Alabama families, and we have seen tuition rise alongside two straight years of record funding from the Education Trust Fund."
Nonetheless, ACHE's All in Alabama Initiative will remain squarely focused on overall industry needs and aligning those opportunities with students seeking employment, stated Bouldin-Frost, one half of ACHE's first female chair/vice chair team. "The campaign will involve institutional participation from career centers that are working with students seeking internships and full-time careers."