Alabama A&M Secures $1 Million from JKC Foundation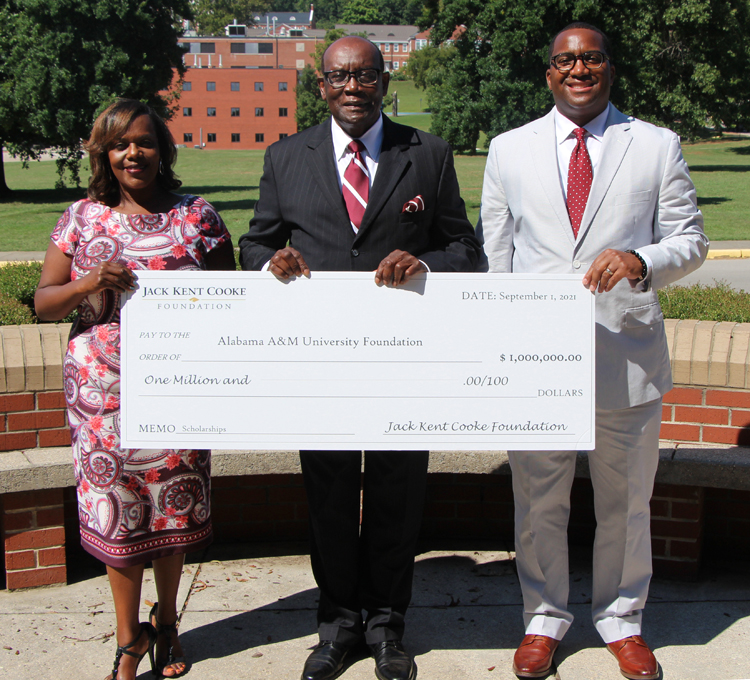 September 03, 2021
Gift Marks Second Million Dollar Gift in Recent Weeks
Huntsville, Ala. ---- Alabama A&M University was recently awarded a $1 million grant from the Jack Kent Cooke Foundation. This gift will be used to establish two new scholarships, the "STEM Achievers" Scholarship and the "Start Here. Go Anywhere Endowed Scholarship". The former is a current use scholarship and will be awarded immediately as needed to STEM majors, while the latter will be endowed to facilitate the long-term support of current and potential students.
"Alabama A&M is appreciative of this tremendous investment. As a National Top 3 HBCU producer of STEM majors, this grant allows the University to further its mission of providing access and opportunity to current and prospective students from the State of Alabama and beyond," said President Andrew Hugine, Jr.
Based in Lansdowne, Virginia, The Jack Kent Cooke Foundation was founded in memory of the late business mogul who was a previous owner of the Washington Football Team, Los Angeles Lakers, and Los Angeles Kings, along with other business ventures. Since 2000, the Foundation has awarded over $222 million in scholarships to over 2,800 students from 8th grade through graduate school, along with comprehensive educational advising and other support services. The Foundation has also provided $115 million in grants to organizations that serve such students.
"We stand committed to furthering access to college education without the burden of debt," said Seppy Basili, Executive Director of the Cooke Foundation. "The Foundation is honored to extend this grant to Alabama A&M who is dedicated to the support and success of their students."
AAMU Vice President for Marketing, Communication & Advancement, Archie Tucker, II, noted, "Given the significance of STEM in Huntsville, Alabama, this investment will bolster the pipeline of minority STEM professionals and allow us to continue providing corporate entities and government agencies with a substantial source of diverse talent both locally and nationally."
Officials also note that Alabama A&M is the largest producer of minority STEM graduates in the state.
For more information on AAMU, visit www.aamu.edu. Additional information on the Jack Kent Cooke Foundation can be found at www.jkcf.org.
###
CAPTION: (l-r) Kim Davis, interim director of development/grants coordinator; President Andrew Hugine, Jr.; and Dr. Archie Tucker, vice president, Marketing, Communication and Advancement.