AAMU Holds First Commencement Ceremony in Event Center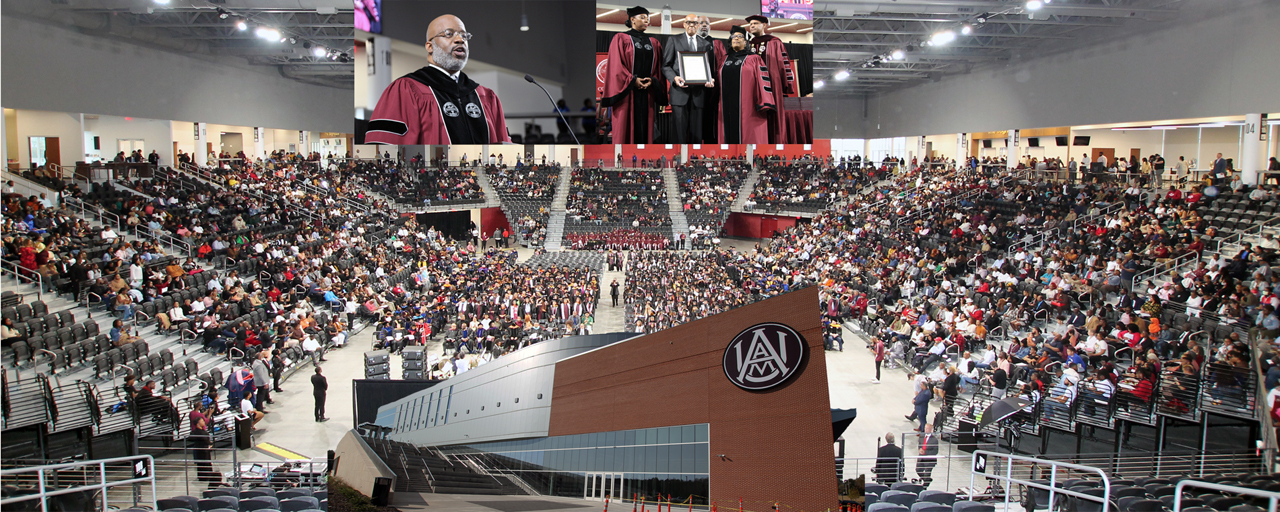 December 12, 2022
"Learning to Fly"
Huntsville, Ala. ---- Alabama A&M University held its first commencement activity in the new 6,000-person Event Center on Friday, December 9. Dr. Roderick DeWayne Watts, president pro tem of the Alabama A&M University Board of Trustees, delivered the commencement address to nearly 500 graduates. PHOTOS
Dr. Watts is a naturopathic doctor and a 1986 graduate of Tuskegee University, where he earned degrees in biology and chemistry. He is a Certified Natural Health Professional (CNHP) who also graduated from Trinity School of Natural Health and the Loomis Institute of Digestive Health in Madison, Wis. Watts has traveled extensively, both domestically and internationally.
His memberships and affiliations include the Etowah County Department of Human Resources – Board Member; the Gadsden City Board of Education – Board Member; Kappa Alpha Psi Fraternity Inc.; Sigma Pi Phi Fraternity (The Boule'); Kappa Kappa Psi Honorary Band Fraternity; and The Aircraft Owners and Pilots Associations.
Watts is an author, an inspirational speaker, a lecturer on numerous topics focusing on health and wellness, and a licensed pilot.
During his address to AAMU's class of 2022, Watts recalled his first-ever flight lesson from the world-famous "Chief" Charles Alfred Anderson, considered the Father of Black Aviation and the revered chief flight instructor for the Tuskegee Airmen.
"It's amazing what you can do when you have to," recounted Watts, referring to his no-nonsense, crude entry into aviation at the 'hands-off' tutelage of Anderson. Quite some time after his ultimately safe landing, Dr. Watts said he finally began to see that unconventional approach to flying from Anderson's perspective and the older aviator's own personal experiences.
Watts said Anderson was born into a time when even a black man's most passionate dreams were often stymied with indifference or discouragement because of the color of his skin. Anderson wanted to fly a plane so badly and his dream was so intense to one day introduce blacks to the world of flight. Anderson knew that he could only learn to fly by buying his own plane. He saved up and borrowed money and invested in his dream.
"When your 'why' is strong enough, your 'how' does not matter," Watts explained. He alerted graduates to the patterns of the storms of life. He noted that one is either about to enter a storm, is in the middle of a storm, or is about to come out of a storm. "It's a cycle."
Watts said his first flight training with Anderson helped him to later latch on to some important life lessons.
"First, understand all the consequences of the decision you are about to make," said Watts. "Second, everything you want will be on the other side of your fear. However, once you overcome your fear, never lose focus on your mission."
Watts concluded by encouraging the new group of AAMU alumni to listen—when in the middle of a crisis—to someone with expertise in the area.
Following his speech, Dr. Watts was awarded the Presidential Medallion. Other honors were presented to Nell Lane Bradford, the 100-year-old retiree who directed the AAMU Choir to prominence for more than 40 years. The citation of Professor Emeritus of Music was accepted by her son, Dr. Henry Lane Bradford, Sr.
###