Teacher Ed Students Win Education Category in Classic Pitch Competition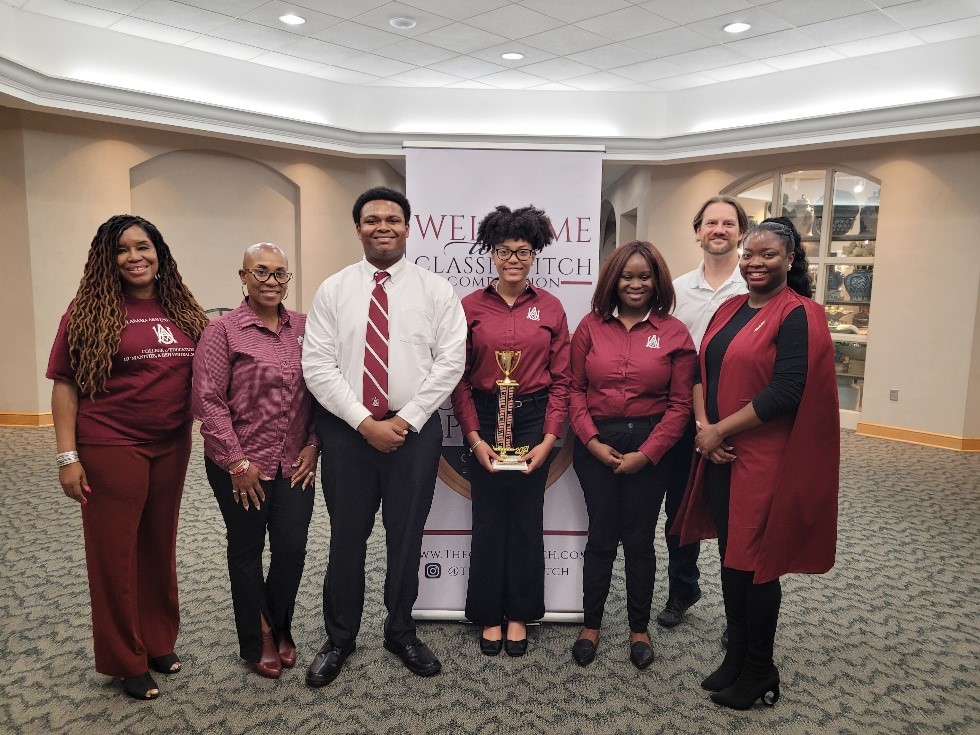 December 09, 2021
Victorious in Education Category
AAMU pulled off another off-the-gridiron victory as part of other activities held in connection with the annual Magic City Classic. A&M students (Faith Spencer, Taylor Washington and Byron Wesley, Jr.) comprising the Bulldog Bytes Pitch Team won the inaugural Classic Pitch Competition. Advised by Dr. Nathan Blom, the three-person team were victorious in the College Division Education Category of the pitch competition.
The contest was hosted by the office of Birmingham District 1 Councilor Clinton Woods. Among the contestants were students representing AAMU, Alabama State University, Miles College, Lawson State Community College and Birmingham City high schools.
Students pitched their solutions for the year's topic, "Pandemic Proofing Education and Small Business," to a panel of five judges. Pitches were judged based on introduction and closing, delivery, goals for solution, visual aspect, and competitive advantage of idea.
The winning proposal from the Bulldog Bytes Team involved creating a Bulldog Pandemic Portal. The online portal would serve as a one-stop shop to support students, parents, and teachers during the difficulties of pandemic-induced remote learning. The portal would offer resources in the areas of Tech, Tutoring and Touch (mental health).
_______________
Pictured (l-r) are: Dr. Kimberly White-Glenn (faculty), Dr. Dione Jordan-Hamilton (faculty), Byron Wesley, Jr. (student), Taylor Washington (student), Faith Spencer (student), Dr. Nathan Blom (team advisor), and Dr. Samantha Strachan (interim department chair)