Governor Visits Rocket City, Meets AAMU President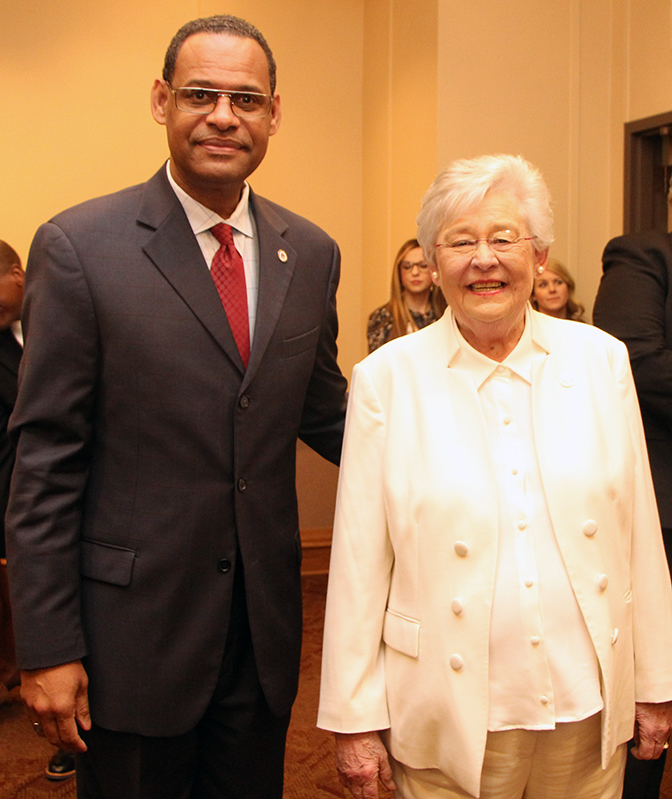 April 14, 2022
A Greeting at VBC
During her 2022 Alabama Update at the Von Braun Center on Thursday, April 14, Alabama Governor Kay Ivey noted some special projects for Huntsville. Prior to the gubernatorial update, however, Governor Ivey attended a special reception, where she talked briefly one-on-one with Alabama A&M University President Daniel K. Wims.
Governor Ivey later talked about the success of Huntsville and Alabama on the economic front before a large audience of business and community leaders. She stated that infrastructure resources will be coming to the region in the form of three key road projects.
Ivey said U.S. Highway 72 will be widened in the vicinity of Providence Main Road. Interstate 565 will be widened to the Wall-Triana Highway, as well as an expansion of Highway 53.
Governor Ivey also addressed the issue of public education.
"We are continuing our fiscally conservative approach and are fully funding the Education Trust Fund's rainy day fund for the first time in history, completely paying off the state's PACT liability years earlier than anticipated and by making investments that will directly benefit our students and teachers for years to come. As someone who was a former teacher, I believe strongly that education is the number one issue here in Alabama and across our nation, because with that strong educational foundation, doors will open for the rest of one's life," Ivey said.