AAMU College of Ag Celebrates Anew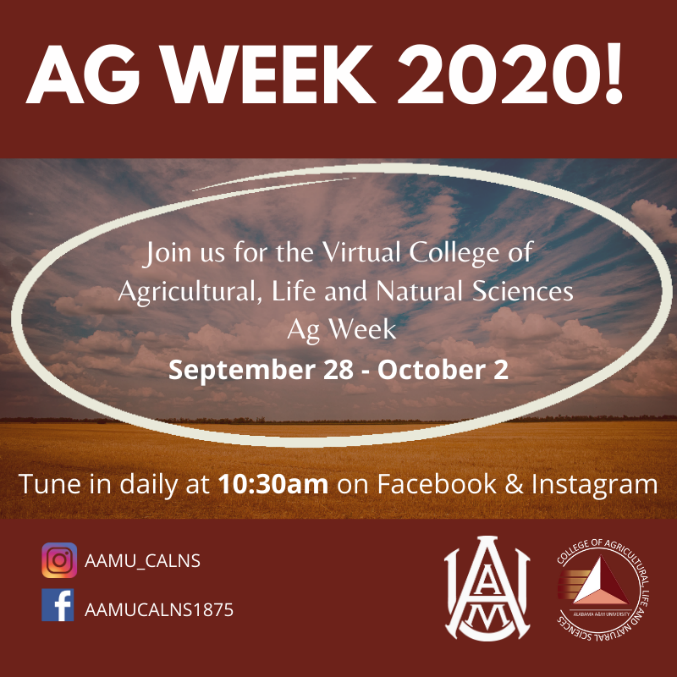 September 28, 2020
Join the Virtual Celebration Beginning Sept. 28!
by Karen Renee Johnson
COVID-19 has breathed a new way of life and living on us all, to say the least. The College of Agricultural, Life and Natural Sciences (CALNS) at Alabama A&M University has continued to make the adjustment with its upcoming Ag Week.
Scheduled for September 28 – October 2, this 2020 presentation will be a "virtual" one that highlights each of the five departments within the College.
Our Facebook (AAMUCALNS1875) and Instagram (AAMU_CALNS) accounts are where you will be able to see our graduate and undergraduate students own the College of AG! Each day at 10:30 a.m., we will look forward to your presence.
To enhance this event, we will be hosting the AG Week Challenge for student participation. Starting Monday, September 28, through Friday, October 2, you will earn the chance to win a VISA gift card.
How? By staying tuned in daily and watching each video to the end; Like us on Facebook, Follow us on Instagram; tag a friend and be the first to leave a comment including the current time of your post at the end of that day's presentation.
So, not only will you be able to learn something about the College, you will have an opportunity to win a prize as well!
For more information, contact the Office of the Dean and Research Director at (256) 372-5783.
See You Soon! Start Here, Go Anywhere!