U.S. Patent Office Honoring BHM at A&M, Tuskegee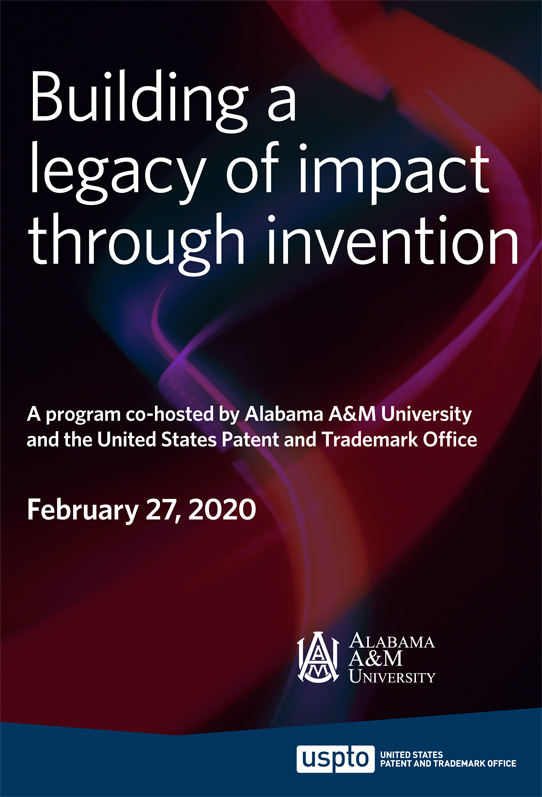 February 27, 2020
Featuring National Inventors Hall of Fame Inductees
The U.S. Patent and Trademark Office (USPTO) is recognizing Black History Month by holding events at two historically black universities in Alabama in February 2020.
USPTO is sponsoring the presentations of National Inventors Hall of Fame inductees Jim West (electret microphone) and Victor Lawrence (inventor of signal processing in telecommunications). The men will talk about their careers at Tuskegee University and Alabama A&M University. The AAMU event will be held on Thursday, February 27, at 12 noon in Clyde Foster Auditorium.
The event is open to students, inventors, entrepreneurs and small businesses and will focus on the theme "Building a Legacy of Impact Through Invention."
Patent and Trademark Resource Centers (PTRCs) offer a national network of public, state, and academic libraries designated by the USPTO to support the public with trademark and patent assistance. PTRC librarians are trained in helping inventors and business owners find the information they need. Learn more at www.uspto.gov/PTRC. The Stevenson Science & Engineering Library at Vanderbilt University in Tennessee is about 109 miles from Alabama A&M University.