COBPA Making "Millionaire Moves"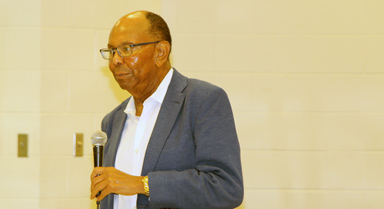 February 28, 2022
Offering Wisdom and Lessons Learned
The College of Business and Public Affairs at Alabama A&M University, in conjunction with the Office of the President, held "Millionaire Moves," a day-long invitation-only session on Thursday, February 24, in the Clyde Foster Auditorium. PHOTOS
Dr. William F. Pickard, executive chairman and founder of Global Automotive Alliance (GAA,)
Manufacturing and Supply Chain Management, joined a panel discussion with invited students. As part of his 45-year entrepreneurial career, Pickard is co-managing partner of MGM Grand Detroit Casino; CEO, Bearwood Management Company; and co-owner of five black-owned newspapers.
During a panel discussion with AAMU business students, Pickard offered advice and answered questions prompted by his book, Millionaire Moves.
The LaGrange, Ga., native emphasized the importance of having a vision and a close network of friends.
The subsequent 12:45 p.m. luncheon featured Bregitte Braddock, director of GAA's Environmental Health and Safety unit.
Program participants included Dr. Amin U. Sarkar, interim dean and professor of economics; Dr. Bonnie Banks, assistant professor of accounting; Danielle Barnes, director, DBE Program; Yvette S. Clayton, director, Career Development Services; Andrea Hawkins, interim chair, Department of Management, Marketing and Logistics; Aretha Hill, interim chair, MBA Programs; Teresa Merriweather Orok, director, Center for Entrepreneurship, Innovation and Economic Development; Dr. Qian Shen, chair, Department of Accounting and Finance; and Rashida Dore-Wilson, Director, Experiential Learning Opportunity.
For additional information about future events, contact joyce.jenkins@aamu.edu.