AAMU Project to Archive COVID-19 Experiences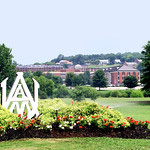 June 01, 2020
Capturing the Rise of the 'New Normal'
From the early mentions of Coronavirus 2019 to complete national shutdown to gradual recovery, a prominent Alabama institution wants it all.
In an insightful move, the collective staffs of the J.F. Drake Memorial Learning Resources Center (LRC) and the State Black Archives (SBA) at Alabama A&M University are launching an archival project aimed at capturing the multifaceted experiences of the COVID-19 pandemic.
"We are inviting the community, faculty, staff and students to participate and share their pandemic experiences," commented Dr. Annie Payton, director of library services. The end result, notes Payton, will be the collection and preservation of stories through narrative and digital images for future research and interest.
Through photos and vignettes, AAMU faculty and staff, in particular, are being urged to share their experiences transitioning to online instruction. Meanwhile, students are being asked to share their takes on moving from their residence halls as the pandemic escalated, adapting to online learning, attending AAMU virtually, experiencing graduation remotely or celebrating graduation or other milestones (i.e., birthdays, job opportunities, etc.) in a virtual setting.
Finally, alumni and members of the community, too, are encouraged to share stories and photos captured of such COVID-19 realities as empty store shelves, funeral challenges, hospitalizations of loved ones, dire financial situations, and the scaling back, postponement or outright cancellation of significant dates (e.g., anniversaries, birthdays, bridal showers, weddings, etc.).
Interested persons should simply click on the "Library" button on A&M's main webpage at www.aamu.edu or HERE.
All other questions and concerns should be addressed to annie.payton@aamu.edu; veronica.henderson@aamu.edu or William.temmen@aamu.edu, or call (256) 372-5007 or (256) 372-5042. Additionally, social media followers can contact chassity.burns@aamu.edu or call (256) 372-4712.
- Jerome Saintjones