NDEP Program Accepting Students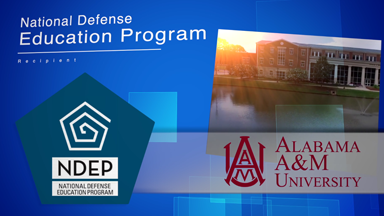 August 06, 2021
STEM Info and Professional Development; Internships
Local students affiliated with disciplines in science, technology, engineering and mathematics (STEM) are being encouraged to apply for acceptance in the fall session of the National Defense Education Program (NDEP) at Alabama A&M University. The program will enable participants to learn, participate in and explore STEM while simultaneously "jumpstarting" their professional development and preparation for opportunities in Department of Defense (DoD) fields.
Students will attend guest lectures (Tuesdays and Thursdays, 6-7:30 p.m.) with STEM leaders and receive info on professional development. Additionally, leading participants will be invited to take part in paid internships with AAMU faculty in STEM areas involving such DoD interests as artificial intelligence, cybersecurity, 5G, biotechnology, autonomy, cryptography, directed energy, microelectronics, quantum science/computing and several other areas.
Undergraduate and graduate students with a 3.0 GPA from AAMU and colleges from the surrounding region are encouraged to apply. Applications will also be accepted from high school students. Upon successful completion of the program, students will receive a $1,000 stipend and certificate of completion. The application deadline is August 18.
For additional information, contact Dr. Jonathan Lassiter, program manager.