Alum Behind Panasonic's Showcasing of A&M Campus in Promo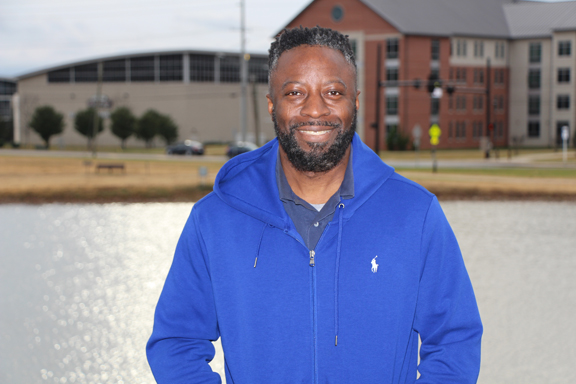 December 10, 2021
Preparing for Major Show in Vegas
"As a graduate of Alabama A&M University, it's an honor to partner with the University and showcase the school as one of the leading STEM universities in the country," said AAMU alum Fidelis Itsede who, with a team from Panasonic Automotive, is on campus this week for a special video shoot.
The video, featuring a new Panasonic technology, will debut globally in Las Vegas in January at the Comsumer Electronics Show (CES 2022), the most influential tech event in the word.
"I suggested shooting the video at my alma mater," said Itsede. "This is a great way to highlight what AAMU offers students."
Itsede earned his degree in mechanical engineering from AAMU in 2002 and is the senior engineering manager in advanced engineering at Panasonic Automotive Systems Company of America. His wife Sharita also graduated from AAMU in 2002 with a degree in mechanical engineering. In fact, Itsede arrived on campus ahead of the video team Monday to meet with their former professors, including Dr. Zhengtao Deng, dean of AAMU's College of Engineering, Technology and Physical Sciences.
"With Alabama A&M being one of the top HBCU schools in the country, Panasonic will follow up with the engineering department and present internship opportunities to engineering students. This initiative will commence in the early spring of 2022. I've reached out to Dr. Deng and Mrs. Yvette Clayton with AAMU Career Development Services regarding this initiative," says Itsede.
Itsede and his team will wrap up shooting Wednesday before heading back to Georgia.
"We're excited to showcase our new technology with AAMU as the backdrop," Itsede beamed. "The video debuts at CES 2022 starting Jan. 4 – 8, 2022. After it debuts there, we will share the video with the university. Alabama A&M will be recognized by Panasonic as the venue used for this filming."
by Debra Daniel