AAMU Providing Foundation for Next Ministerial Leader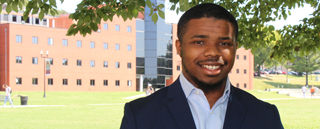 September 20, 2019
Being a Servant of Service
"For I know the plans I have for you …"
-Jeremiah 29:11
Recalling his days as a very young boy growing up in a religious family in Chicago, Brandon Elijah Ferguson still cannot count how many times he heard the school—Alabama A&M University—mentioned in family conversations and discussions. No small wonder, especially considering the fact that he is from a family with no less than eight AAMU graduates.
But even with so much talk about "The Hill" in his familial circles, legacy alone still did not seal the deal when it came to the 12-year-old's future choice of college.
"The year that A&M played in the Chicago Classic against Hampton (2011) really piqued my interest," said Brandon. "A lot of my relatives attended that event." Although AAMU lost by one point to the Hampton University Pirates, 20-21, in Soldier Field that Labor Day, Brandon knew for sure that he wanted to become part of the Bulldog tradition.
As it turns out, the Ferguson family is full of traditions. Not only was Brandon born as the middle and only son, surrounded by an older and younger sister (Lance and Valencia), he was also placed in the middle of a family steeped in the religious experience.
"I was born into the church," Brandon said proudly, smiling when he thought back to his early experiences at Mt. Carmel Missionary Baptist Church on Chicago's South Wabash Avenue. "My maternal great-great-grandfather, Rev. Joseph B. Felker, organized my home church in 1945 and pastored it for 11 years—until his passing. Then, it was taken over by my maternal great-grandfather (Rev. Joseph B. Felker, Jr.) in 1957, and he pastored for 51 years, until he retired."
The 300-member church was a part of his life to such a great extent that he availed himself of its numerous ministries. He became a Black Belt in karate through the church's martial arts academy, which provided community youth with a mechanism for self-defense and discipline.
But his early church involvement did not end there. He served as vice president of the Inspirational Choir, and was also a part of the male chorus, praise team, the junior usher board, and was audio engineer lead. All of these posts culminated with his appointment as an associate minister.
It was under the church's current pastor, Rev. Robert C. Jones, Jr., that Brandon Elijah received a message from a higher plane.
"I realized that I had been called, and I accepted in October of 2016," said Brandon. He was licensed on New Year's Day of 2017. When asked whether being in the ministry helped or hindered his collegiate experience, the junior computer science major reflected on the question for a moment.
"It is a blessing in that I have not strayed away from the church and that I found a church here," replied Rev. Ferguson, referring to Hopewell Missionary Baptist Church, pastored by Dr. Larry Davidson, Jr. "He (Davidson) has been a mentor and has really taken me under his wings."
At Hopewell, which also has about 300 members, Brandon serves as an associate minister, teaches Sunday School and life classes, and participates in youth services. Moreover, he is a part of the Greater Huntsville Interdenominational Ministerial Fellowship.
As far as the collegiate experience is concerned, the 21-year-old has found that living off-campus is a better option for him while at AAMU—not because of anything related to the campus itself, but primarily because of his being from Chicago. For instance, when dorms close for various holidays and breaks, he doesn't have the pressure to rush pack his luggage and to move, since community living offers him different timetables.
Still, he wishes all AAMU students had more opportunities to enrich their religious experiences, perhaps through more Bible studies, chapel services where students can freely worship as they see fit, or even through more on-campus religious events or religious courses. Nonetheless, he says he enjoys his field of computer science and is anticipating graduation in December 2020.
And, he won't forget all the help he has had along the way, assistance such as the Steve and Margie Harvey Mentor Camp Outstanding Leadership Award (2013); the Deacon Peter G. Irby Memorial Scholarship (2018-19); and the Chicago Housing Authority Award (2019).
Yet, there is still a large elephant in the room. Point blank: on-campus and off-campus living can still conjure up peer pressure and temptaions, so how does a young minister handle such?
"Peer pressure hasn't been a problem for me," Brandon stated, adding, "The individuals I associate with are like-minded. All of us are more leaders than followers."
Upon graduation, Rev. Brandon Elijah Ferguson said he plans to go into the ministry full-time. "I've invested a lot into it, and I see myself going into the seminary after finishing here. There is no place like A&M. You can really start here and go anywhere. I have received a great foundation to become successful in life."
-Jerome Saintjones