AAMU Offers Support to OU's Aeolians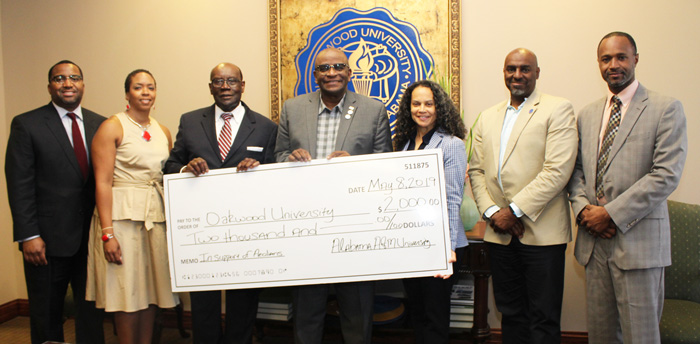 May 08, 2019
The Hill offers support and comfort to Oakwood's popular choral group
Although many Alabama A&M University students and faculty had concluded the spring session following May 3 graduation, AAMU rallied to provide some financial assistance to Oakwood University, a sister institution, which had experienced a tragedy that captured national attention.
Members of The Aeolians, Oakwood University's internationally recognized choral group, were involved in a deadly multi-vehicle accident on Saturday, May 4, while in San Francisco to perform at Third Baptist Church on the following Sunday. While no members were hurt, they did lose their belongings.
AAMU made a $2,000 donation OU President Leslie Pollard to assist The Aeolians, who returned from California on Tuesday night, May 7.
Pictured (l-r) are: Dr. Archie Tucker, AAMU vice president for marketing, communication and advancement; Dr. Malinda Wilson Swoope, AAMU special assistant to the president for strategic planning and initiatives; Dr. Andrew Hugine, Jr., AAMU president; Dr. Leslie Pollard, Oakwood University president; Cheri Fisher Wilson, Oakwood executive director of advancement and development; Kenn Dixon, Oakwood director of public relations; Clayton Gibson, AAMU senior vice president for finance and administration.