Engineering Student Part of Session at Harvard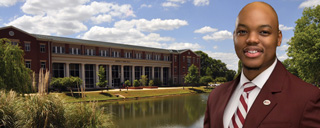 May 30, 2019
AAMU Engineering Student Joins Harvard Summer Program
It'll be a bright summer for one excited engineering student at Alabama A&M University.
Greenwood, Miss., native Xzavier Brandon, a senior mechanical engineering major with a 3.9 GPA, has been accepted into the Harvard Business School (HBS) Summer Venture in Management Program (SVMP).
The 37-year-old summer management program is a one-week residential educational program for rising college seniors. It is designed to increase diversity and opportunity in business education. Using the case method of instruction, HBS faculty lead class discussions on current management issues.
Participants spend evenings analyzing real-business cases, and use morning study groups and classes to examine and debate their ideas through lively interaction with peers and faculty. This is the life of an MBA student at HBS. The academic program is supplemented by presentations from HBS administrators and alumni who provide information about the impact of an MBA.