AAMU Students Visit Dominican Republic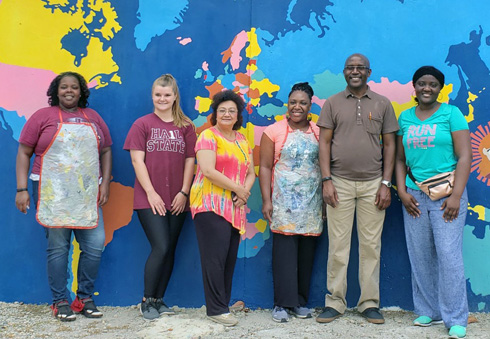 July 27, 2019
Gaining global awareness
In an effort to experience the practice of social work globally, a group of Alabama A&M University graduate students went on a community service project trip this summer to the Dominican
Republic.
Led by Dr. Samson Chama, an associate professor within the Department of Social Work, Psychology and Counseling, the students were based in the provincial capital of Cabarete, where they participated in the many activities of the United Nations-inspired Mariposa Foundation.
The decade-old Foundation aims to eradicate extreme poverty and hunger; support primary education and gender equality; combat infant mortality; ensure environmental sustainability; and to create global partnerships for development.
According to graduate social work student Kiran Raziq, the trip brought awareness to the problems people confront in developing countries whose economies depend heavily on tourism.
"Through classroom preparation and experiential experiences abroad, students have the opportunity to expand their perspectives regarding social problems while also responding to the needs of local communities in the international landscape," commented Dr. Tonya Perry, chair of the Department of Social Work, Psychology and Counseling. "I am extremely pleased with the work that Dr. Chama is doing to create global opportunities for our students. This is only
the beginning."
CAPTION: Pictured (l-r) are as follows: Chasity Vinson, Amanda Robinson, Kiran Raziq, Kianna McIntosh and Dora Cook.