VP ACE Fellow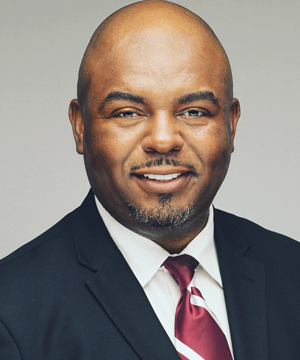 April 03, 2019
VP Receives National Distinction
The American Council on Education (ACE) has announced that Dr. Gary B. Crosby, vice president for student affairs at Alabama A&M University, has been named an ACE Fellow for academic year 2019-20. Following nomination by the senior administration of their institutions and a rigorous application process, 39 Fellows were selected this year. (See Full List)
Established in 1965, the ACE Fellows Program is designed to strengthen institutions and leadership in American higher education by identifying and preparing faculty and staff for senior positions in college and university administration through its distinctive and intensive nominator-driven, cohort-based mentorship model. More than 2,000 higher education leaders have participated in the ACE Fellows Program over the past five decades, with more than 80 percent of Fellows having gone on to serve as senior leaders of colleges and universities.
"The ACE Fellows Program epitomizes ACE's goal of enriching the capacity of leaders to innovate and adapt, and it fuels the expansion of a talented and diverse higher education leadership pipeline," said ACE President Ted Mitchell. "Each year I am impressed by how many former Fellows are named to prominent leadership roles, which makes it even more exciting to meet each new cohort. I'm left wondering, 'Where will these Fellows end up?'"
"I am extremely thankful to have been selected as an ACE Fellow, and I look forward to building personal and professional capacity, while exploring multiple facets of higher education leadership and issues – to the benefit of Alabama A&M University," said Crosby. "I want to thank Dr. Hugine, my family, and mentors for their support and encouragement." Crosby was nominated by Dr. Andrew Hugine, Jr., President of Alabama A&M University.
Since arriving at Alabama A&M University in 2015, Dr. Crosby has fully reimagined the student experience. He has implemented transformational and collaborative initiatives, while advancing a comprehensive approach to student success. Crosby has provided solid leadership in the areas of enrollment management, technology infused learning and development, and the implementation of university-wide processes and procedures for campus safety, emergency preparedness, Title IX, and health and counseling, to name a few. Additionally, Crosby has restructured the Office of Student Affairs to improve operational efficiency and effectiveness.
"Dr. Crosby's selection for one of the most prestigious fellowships in higher education is yet another example of Alabama A&M University's commitment to achieving operational excellence through leadership development," said Hugine. "This transformational opportunity validates Dr. Crosby's status as a nationally recognized higher education leader, and we are fortunate to have him as a member of the University's leadership team. We wish him much success during his time as a Fellow."
The program combines retreats, interactive learning opportunities, visits to campuses and other higher education-related organizations, and placement at another higher education institution to condense years of on-the-job experience and skills development into a single year.
During the placement, Fellows observe and work with the president and other senior officers at their host institution, attend decision-making meetings, and focus on issues of interest. Fellows also conduct projects of pressing concern for their home institution and seek to implement their findings upon completion of the fellowship placement.
At the conclusion of the fellowship year, Fellows return to their home institution with new knowledge and skills that contribute to capacity-building efforts, along with a network of peers across the country and abroad. For more information, please click here.
ACE CONTACT: Kristen Carmen, 202-939-9554, kcarmen@acenet.edu
About ACE ACE is a membership organization that mobilizes the higher education community to shape effective public policy and foster innovative, high-quality practice. As the major coordinating body for all the nation's higher education institutions, ACE represents more than 1,700 college and university presidents and related associations. For more information, please visit www.acenet.edu or follow ACE on Twitter @ACEducation.