Alum, Executive Commencement Speaker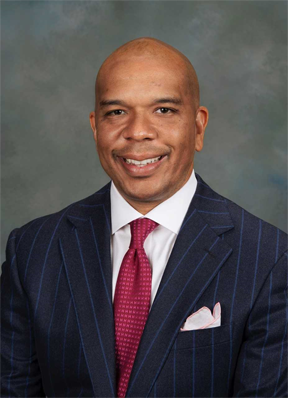 May 03, 2019
Former Trustee, Alumnus to Address Graduates
Alabama A&M University alumnus John O. Hudson, III, will be the speaker for the spring commencement program Friday, May 3, at the Von Braun Center Arena, at 6 p.m.
Hudson is a licensed attorney who serves as executive vice president and chief external and public affairs officer at Southern Company Gas. He is also president of the Southern Company Gas Foundation.
In this role, he has responsibility for the company's external affairs, corporate communications, marketing, community relations, economic development and environmental affairs functions. In addition, he serves as president of company's foundation, which focuses on philanthropic and volunteer initiatives. Hudson also is a member of the Southern Company Gas Management Council. Southern Company Gas is a subsidiary of Southern Company.
Before assuming his current role, Hudson served as senior vice president of marketing and business development at Alabama Power, responsible for the company's marketing, economic development, business development and corporate entrepreneurship functions, as well as customer service centers in Birmingham and Montgomery.
Previously, he served as the chief executive of the Alabama Power Foundation and as vice president of public relations and charitable giving. Hudson joined Alabama Power in 1996 and held positions of increasing responsibility, most notably serving as assistant to the company's president and CEO and as area manager for the Birmingham division.
Hudson received a bachelor's degree in political science from Alabama A&M University and is a cum laude graduate of Miles College School of Law. He also completed the Executive Accounting and Finance Program at Wharton School of Business at the University of Pennsylvania and the Young American Leaders Program at Harvard Business School.
Hudson and his wife, a municipal court judge in Birmingham, have one daughter and reside in Birmingham and Atlanta.
Over 600 undergraduate and graduate students have applied for graduation to receive degrees in the College of Agricultural, Life and Natural Sciences; the College of Business and Public Affairs; the College of Education, Humanities and Behavioral Sciences; the College of Engineering, Technology and Physical Sciences; and the School of Graduate Studies.