Executive Committee of the Board to Hold Call Meeting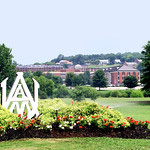 May 02, 2019
AAMU Board Executive Committee Will Meet May 2
Notice is hereby given that there will be a meeting of the Executive Committee of the Board of Trustees of Alabama A&M University to be held on Thursday, May 2, 2019 at 7:00 p.m., in the Office of the President's Conference Room on the campus of the Alabama Agricultural and Mechanical University.
The purpose of the meeting will be to permit the Executive Committee to review and take whatever action, if any, it may deem appropriate concerning proposed land development on a portion of the campus, and to address any further business which may properly come before the Executive Committee at that time.
The public is invited to attend and observe proceedings of the Executive Committee.