Professor Joins National Leaders in SOBA Contribution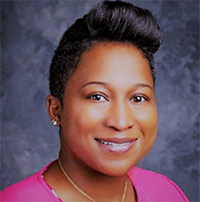 June 13, 2019
Professor Joins National Leaders in SOBA Contributions
A visiting professor of economics at Alabama A&M University is a guest author to a sought-after and groundbreaking publication gauging the status of African Americans on a multi-faceted level.
Dr. Kristen E. Broady joins a list of prominent CEOs and thought leaders who help compile the National Urban League's 2019 edition of the State of Black of America, Getting 2 Equal: United Not Divided. Now in its 43rd edition, the work has developed a following for delving into how racial equality stacks up in terms of economics, employment, education, health, housing and several other areas.
Broady's essay focuses on "The High Cost of Not Voting: Voter Suppression and the Racial Income Gap."
The educator notes that unemployment, poverty and economic insecurity is as negatively impactful on voter participation as "draconian voter ID laws and poll closings." Lessened participation, she asserts, renders low-income communities almost invisible when it comes to commanding politicians to address their urgent needs.
Dr. Broady further notes that, "because some forms of political participation in the United States are so tied to income, elected officials will inevitably pay more attention to the needs and policy preferences of affluent voters."
Among the 2019 contributors are Congresswomen Nancy Pelosi and Karen Bass, Rev. Al Sharpton, Wisconsin Lt. Gov. Mandela Barnes, U.S. Senator Elizabeth Warren, Congressman William Lacy Clay and many others.
Broady is the proprietor of KBroad Consulting. She has previously served on the faculties of Howard University, Fort Valley State University, and Dominican University. She has worked as a consultant for the Joint Center for Political and Economic Studies; a senior research fellow for the Center for Global Policy Solutions in Washington, D.C.; a consultant for the City of East Point, Georgia, and as an HBCU consultant for the second season of The Quad on Black Entertainment Television (BET) in Atlanta.
A member of Alpha Kappa Alpha Sorority, Incorporated, she is also affiliated with the Baltimore Chapter of The Links, Incorporated; the National Economic Association, and the Union for Radical Political Economics.
Dr. Broady earned a B.A. in criminal justice at Alcorn State University and an MBA and Ph.D. in business administration with a major in economics at Jackson State University.
To read the essays by Broady and others, visit the "State of Black America" at the website of the National Urban League.