Committee, First Lady Recognized for Campus Pride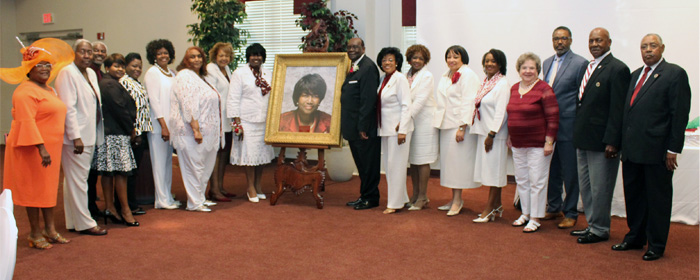 May 22, 2019
Bulldog Pride Committee Honored for Decade of Service
Huntsville, Ala. ---- The significant impact of a small committee formed in 2009 at Alabama A&M University by First Lady Abbiegail Hugine was noted during a celebratory program Saturday, May 18, at the campus' Ernest L. Knight Reception Center.
The Bulldog Pride Committee's Tenth Anniversary Celebration Brunch highlighted the work of the committee, founded by Mrs. Hugine to foster pride through campus aesthetics, and its decade of campus improvements and gradual expansion into other areas. Over the years, the committee's focus broadened to include projects for scholarships, student-oriented projects, customer service, and community engagement.
"Modest, unassuming and one who avoids the limelight, Mrs. Hugine derives much contentment from finding thoughtful ways to close the gaps between traditional university offerings and the unique needs and situations impeding upon student quality of life and ultimate collegiate success," commented Dr. Cynthia Smith, a co-chair of the Tenth Anniversary Celebration.
Erica "Fox" Washington, program manager for AAMU's 100,000-watt jazz and blues format radio station WJAB-FM, served as the Mistress of Ceremonies. Tributes to First Lady Hugine and the Bulldog Pride Committee were offered by State Representative Anthony Daniels, who made a presentation on behalf of his colleague, State Representative Laura Hall.
Also present to extend greetings and tributes were Commissioner JesHenry Malone; Brenda Martin, representing Mayor Tommy Battle and the City of Huntsville; Mary Moore, AAMU Alumni Association vice president; Chris Robinson, AAMU Board of Trustees; Dr. Malinda Swoope, AAMU Office of the President; Dr. Jeanette Jones, president, AAMU Faculty Senate; Malcolm Brasher, president, AAMU Staff Senate; AAMU graduate student Jeri Borders; and Home Depot representatives Renee Hubbard and Mazel Avery.

"Mrs. Hugine's years of experience as a school administrator became readily apparent as she provided the committee with avenues for foresight, needed structure, reasonable timeframes and—most of all—consistent acknowledgment for carrying out objectives, because at Alabama A&M University … 'Service Is Sovereignty,'" said Mary W. Hurt, chair of the Tenth Anniversary Celebration Committee.
Program highlights included a video presentation by Michael Morns of AAMU's Electronic Media Communication; a tribute by saxophonist Alex Banks; a dance tribute choreographed by AAMU business professor Larry McDaniel; and an array of "Bulldog Tributes" by Felicia Wilson of Aramark; retired alumnus Langdon Conaway; and a musical tribute by Dr. Kyla Pitcher. Following acknowledgment of guests, President Andrew and First Lady Abbiegail Hugine offered closing remarks.