Business Fraternity Tops at State Competition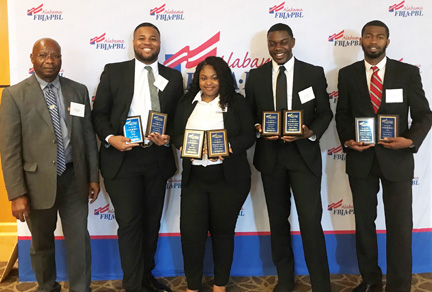 April 27, 2019
Phi Beta Lambda business fraternity chapter on a roll!
Members of the Alabama A&M University chapter of Phi Beta Lambda Business Fraternity, Inc., represented the institution at the Alabama State Department of Education-sponsored PBL Leadership Conference Competitive Events, held April 12-13 in Birmingham, Ala.
The annual competition is open to all two-year and fouryear colleges and universities in the state of Alabama. At the conference, the AAMU team won first place in Financial Services; Help Desk; Job Interview; Marketing Analysis and Decision Making; Organizational Behavior and Leadership; Sales Presentation; and Website Design.
The group secured second place honors in the categories of Accounting Principles, Managerial Analysis and Social Media. Additionally, the PBL chapter won a third place distinction in Retail Management.
Moreover, PBL members were well represented in the in 2019-2020 Alabama A&M University Student Government Election. Congratulations to: Samira Hopkinson – Miss Alabama A&M University; Dalaysia Cannon – Vice President, Student Government Association; Eron Blue – Treasurer; Cameron Brown – Social Greek Senator; Courtney Young – Senior Senator; and Semaj Collins – College of Business and Public Affairs Senator.
PBL students use the relevant business and social science education they receive at AAMU to transition into professionals and leaders in their respective communities.
Members owe much to the leadership of Dean Del Smith and department chairs Larry McDaniel, Dr. Craig Patton, and Dr. Mohammad Robbani. They appreciate the efforts of all faculty and staff of the College of Business and Public Affairs in preparing us for a better and productive future. Chapter leaders include: Cameron Brown, president PBL – XIXI Chapter; Deshannon McDonald – Faculty Co-Adviser; Rashida Wilson – Faculty Co-Adviser; and Dr. Augustine N. Dike – Faculty Adviser.
CAPTION: Dr. Augustine Dike (left) is joined by (l-r) Cameron Brown, Daeja Lewis, Kasey Nation and Kendall Ankum.