College of Business Wins NBMBAA Award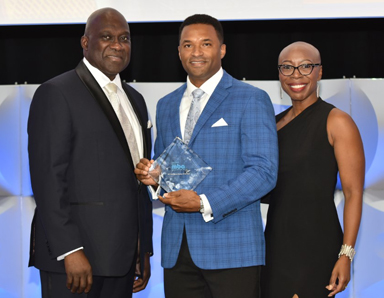 October 10, 2019
"Academic Partner of the Year"
Huntsville, Ala. ---- Alabama A&M University's College of Business & Public Affairs has been recognized as "Academic Partner of the Year" by The National Black MBA Association® (NBMBAA) during its recent 41st Annual Conference & Exposition in Houston, Tex.
The National Black MBA Association® is the premier non-profit, member based organization that leads in the creation of educational, wealth building and growth opportunities for minority students, professionals and entrepreneurs.
Dr. Delmonize "Del" Smith, dean, accepting the award for AAMU's College of Business and Public Affairs. Smith is also a member of NBMBAA's Academic Advisory Council and serves as executive director for economic development at AAMU. (See VIDEO or copy/paste https://youtu.be/jSf2cQxf_bE)
"It is so important to understand that this achievement requires a team effort," Dean Smith remarked. "Special recognition goes to our MBA Director, Dr. Qian Ruby Shen, who comes to work each day with the sole objective of furthering our program and ensuring our students have exceptional, career-focused, educational experiences."
Introduced in 2016, the Academic Partner of the Year award is given to the institution of higher learning that provides exceptional support and strategic partnership to NBMBAA® and its members. The College of Business & Public Affairs at AAMU is a Diamond Collegiate Partner of NBMBBA®, providing at least $100,000 in financial support to MBA students each year.
Previous year's recipients include Emory University's Goizueta Business School and The Ohio State University's Fisher College of Business. This is the first time the award has gone to an HBCU.