Construction Management Student Earns Award
November 06, 2018
Construction Management Student Earns Award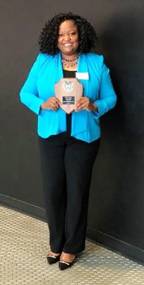 Senior construction management major Agnes Pope has received the Huntsville Post "Student Engineer of the Year 2017 Award" by the Society of American Military Engineers (SAME) for her outstanding contributions to society and the community.
SAME is a multidisciplinary professional society consisting of individuals and organizations engaged in supporting national security in infrastructure-related projects, including architectural, engineering, construction and project planning. The award is based on academic achievement, leadership and community Services.
Pope received the award on 'Industry Day 2018' on October 23 at the U.S. Space & Rocket Center in Huntsville, Ala. She will graduate in December 2018 and has already received a full-time job offer from Turner Construction as a project engineer. Pope worked with Turner Construction as an intern in summer 2017 and also worked on the New Residential Hall at Alabama A&M University, where Turner Construction served as construction manager.