Coveted Program Inducts Nearly 80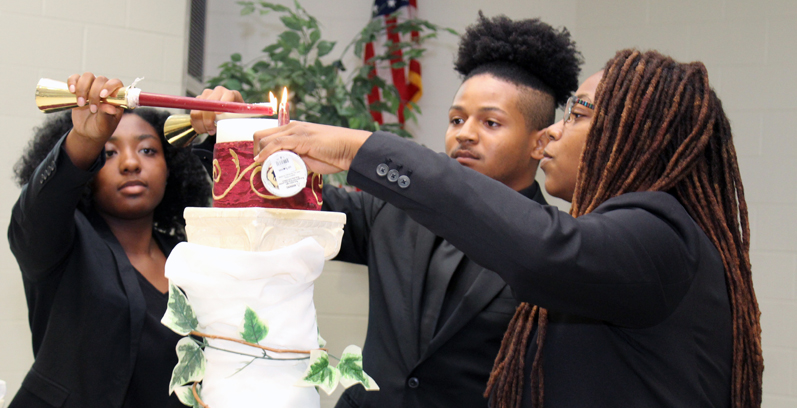 August 27, 2019
Dr. Marshall Pritchett III speaks at induction ceremony
The Alabama A&M University Honors Program held its annual induction ceremony Sunday, August 25, in the Clyde Foster Auditorium, where almost 80 new inductees participated in the lighting ceremony and recited the Honors Pledge. PHOTOS
The program was opened by Carla Draper Holloway, assistant director of the AAMU Honors Program. Dr. Pamela Arrington, associate vice president of academic affairs and undergraduate studies/Honors Program director, installed the 2019-20 officers.
Dr. Marshall C. Pritchett III, a former Honors Program recipient and AAMU biology graduate, was the keynote speaker for the event. The Thomasville, Ala., native, urged the inductees to set priorities and informed them that their failures on their paths to their dreams are as important as their successes.
Among the 2019-20 inductees were (alphabetically): Destiny Adams, Russell Allen, Reagan Alverez, Eric Anderson, Kamsiyo Arinze, Najee Banks, Kamryn Barnes, Rakja Bates, Aubri Bowman, Anita Bozhko, Msontai Brock, Brian Brown, Britney Brown-Mott, Angelo Butler, Mackenzie Calhoun, Gabrielle Cash, Robyn Cole, CaMiah Cole, Destiny Cook, Jhantel DeLoach, Johniya Doaks, Sakura Dozier-Muhammad, Elizabeth Embden, Terrin Farris, Korbin Fears, Samarion Flowers, Akhia Floyd, Kennedy Freeman, Makynzee Gaddy, Jocelyn Garbriel-Ayala, Breanna Green, Jaila Green-Mascotti, Na'Aliah Griffith, Arianna Griggs, Esteban Guadarrama, Thierry Havah, Kourtney Hawkins, Sydney Hawkins, Tiyana Herbert, Avianna Holder, Chaz Holder, Miekah Ingram, Deja Jackson, Kyran Jones, Shelbe Jones, Jaylen Jude, Adric Kimbrough Jr., Kimberly Larkin, Vincent Lee, Justin Lindberg, Avontae Little, Vanesa Malagon-Mondragon, Gianni Martin, Zaire Martino, Tierney Mays, Myles McCoy, Jaelei Mosley, Jamilah Muhammad, Meagan Omezi, Chukwufum Onianwa, Angel Owens, Alexis Patterson, Nicholas Powell, Shanija Powell, Christian Readus, Makayla Rushing, Paris Siggers, Timia' Sims, Austin Smith, Dominique Spence, Leonna Trammell, Amir Utley, Jarvis Westery, Trinity Whiting, Ayanna Williams, Akimia Wilson and Daija Young.