AAMU Physicist Becomes Fellow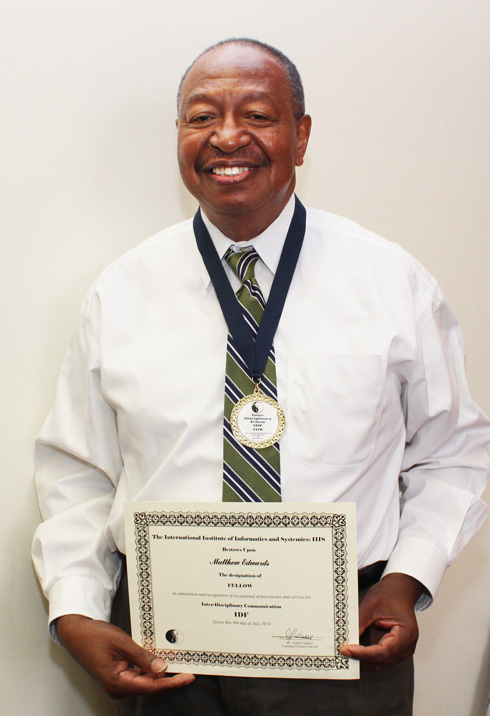 July 28, 2019
Researcher Joins Inaugural Class of IIIS Fellows
During his more than 40 years in academia, Alabama A&M University physicist Matthew E. Edwards admits that he has "probably reached" some 4,000 students. That number reflects a love for his field that compels him to carry on research aimed at showing physics educators
how to assist students in thinking critically; how those educators can become more effective teachers; and, foremost, how to achieve and sustain success in academia.
The most recent acknowledgement for the former dean's research passion comes in the form of his designation as a Fellow by the 2,000-member International Institute of Informatics and Systemics (IIIS). Edwards has the added historical distinction of being a part of the organization's inaugural class of 17 fellows from around the world.
Since its founding nearly 25 years ago, IIIS has been fertile territory for the prolific Edwards' scientific presentations and publications. He has sustained this drive for teaching and research
throughout his career and spanning stints at Fayetteville State University in his native North Carolina, Spelman College, Howard University and the University of Pittsburgh. All the minority
serving schools, he maintains, are common in their charge to do more with less.
His tenure at AAMU boasts the mentoring of two master's students and four Ph.D. students, as well as contributions to research on materials of electrooptics, pyroelectrics, quantum physics and soliton wave theory.
- J. Saintjones