We Know Why the Caged Bird Sings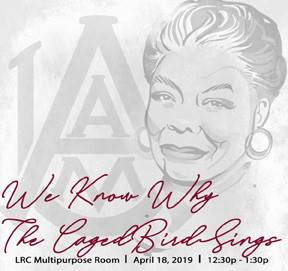 April 18, 2019
Get-together Links English Majors with Alums
There are some DREAM jobs in English and related fields, and get-together with English majors and Alabama A&M University alumni will prove it on April 18 in the LRC auditorium at 12:30 p.m.
The DREAM acronym stands for "Directly Relating English And Meaningful" work, and English majorso will enjoy a mix 'n' mingle with accomplished alums. The interaction, say organizers, will spur "real talk" about rewarding careers and possible earnings.
Special recognition will be paid to Sigma Tau Delta International Honor Society. Attendees will compete for door prizes.