Freshmen Pack Gym for Annual Convocation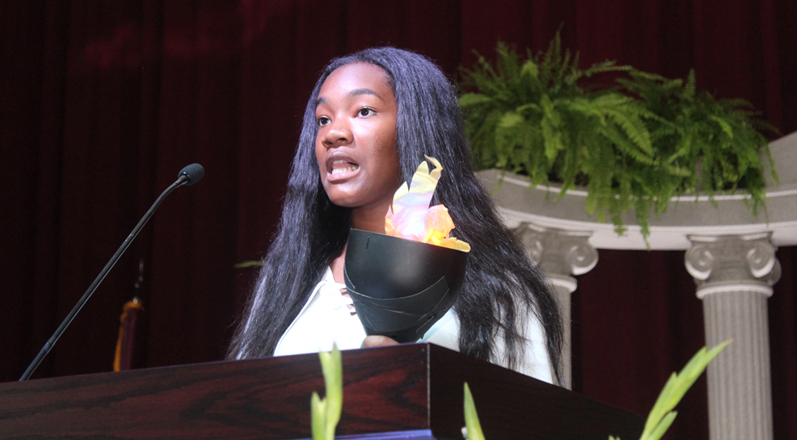 August 16, 2019
The Importance of Purpose
Dr. Mark Simpson Berry, vice president of environmental and natural resources for Georgia Power, was the guest speaker for Alabama A&M University's 2019 Freshman Convocation and Torch Lighting Ceremony held Wednesday, August 14, in the campus' T.M. Elmore Building. He jointly serves as vice president of Southern Company Services Research & Development activities.
The AAMU alumnus asked freshmen to consider their life's purpose, adding that their purpose should extend far beyond their college majors. He also urged them to prevent education from "slipping" away through their fingers by delving into their passions.
He further challenged them to think about those things in their lives for which they would be willing to undergo major adversity. Berry then assured them that "everyone here will leave a legacy."
Dr. Berry earned his bachelor's degree in mathematics from AAMU in 1991. He went on to receive a bachelor's and master's degree in mechanical engineering, as well as the Ph.D. in interdisciplinary engineering from the University of Alabama at Birmingham. Moreover, the registered professional engineer earned a master's in public and private management from Birmingham Southern College.
At Georgia Power, part of Southern Company, Dr. Berry is responsible for maximizing the value from Georgia Power-owned natural resources, acquiring real estate to support company operations and managing the company's environmental compliance and stewardship programs to meet or surpass all environmental laws and regulations.
Prior to joining Southern Company, Berry attained the commissioned rank of lieutenant commander in the United States Navy as a surface warfare officer.
He is a governing board member of the Metropolitan North Georgia Water Planning District, a board member of the Georgia Conservancy, an advisory board member for the School of Engineering at the University of Alabama at Birmingham and a former board member of the
Youth Motivation Task Force at Alabama A&M University.
Berry holds four patents regarding technical approaches to control emissions from coal-fired power plants.