College of Ed Sponsoring Homecoming 5K Kickoff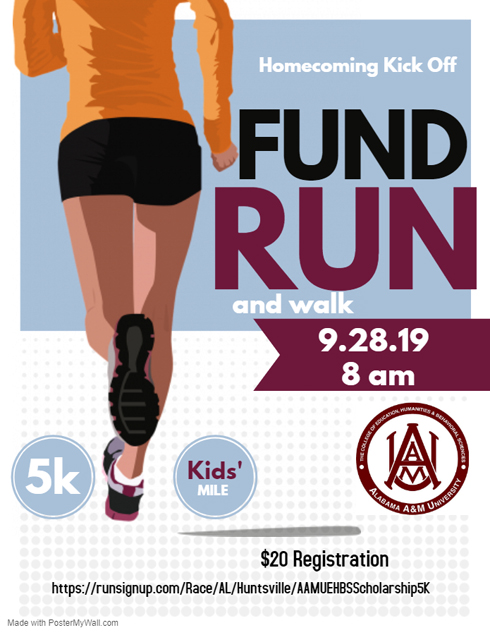 September 28, 2019
"Fund Run" will help CEHBS retention effort
The College of Education, Humanities and Behavioral Sciences (CEHBS) at Alabama A&M University is sponsoring a 5K to kick off Homecoming 2019. The race will be held Saturday, September 28, at 8 a.m. Registration
This will be a fun, slightly challenging run around the beautiful, historic campus of Alabama A&M University. All proceeds will go to a scholarship fund for the students of CEHBS.
Early registrants (before 9/10) are guaranteed a t-shirt.
Faculty and staff members can also sponsor a student to run by donating $20 on QGIV (drop down to "5K Fun Run CEHBS".
For more information, contact Theresa McWilliams-Wessels, English instructor, Department of English and Foreign Languages/CLASS Center Retention Coordinator, 208 Carver Complex North, at Theresa.wessels@aamu.edu.