Hugine Honored on 10th Anniversary, Birthday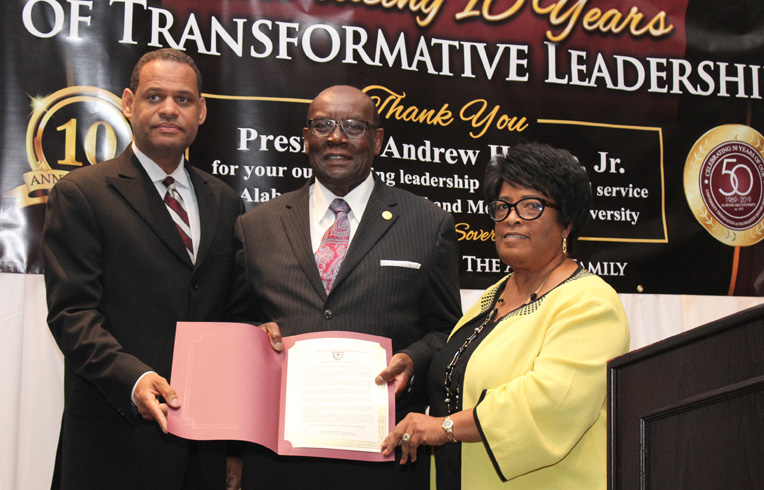 June 21, 2019
Hugine Honored on 10th Anniversary, Birthday
The President of Alabama A&M University recently received accolades from the campus and religious communities, as well as local, county and state leaders during a trustee-hosted program recognizing a decade of service.
Dr. Andrew Hugine, Jr., was greeted by friends and family, donors, faculty and staff, alumni, church members, trustees and other local well-wishers at his tribute- and music-filled tenth anniversary celebration, held in the Ernest L. Knight Reception Center on Thursday, June 20, and facilitated by Dr. Malinda Swoope and Trustee Chris Robinson. The June 20 event also served as a tribute to his 70th birthday on the following day.
The evening's key presentations were made by the presidents of the University of Alabama in Huntsville, Calhoun Community College and Oakwood University; trustees; city, county and state governments; the president's cabinet and office staff; St. John AME Church; Aramark Corporation; the AAMU Foundation; the Hugine family; and a special 10-minute video capturing his top 10 accomplishments over the past decade. PHOTOS
Caption: Hugine (c) receives presentation on behalf St. John AME Church from (l-r) Dr. Daniel Wims and Dr. Jeanette Jones.