AAMU's Hugine Named HBCU Male President of the Year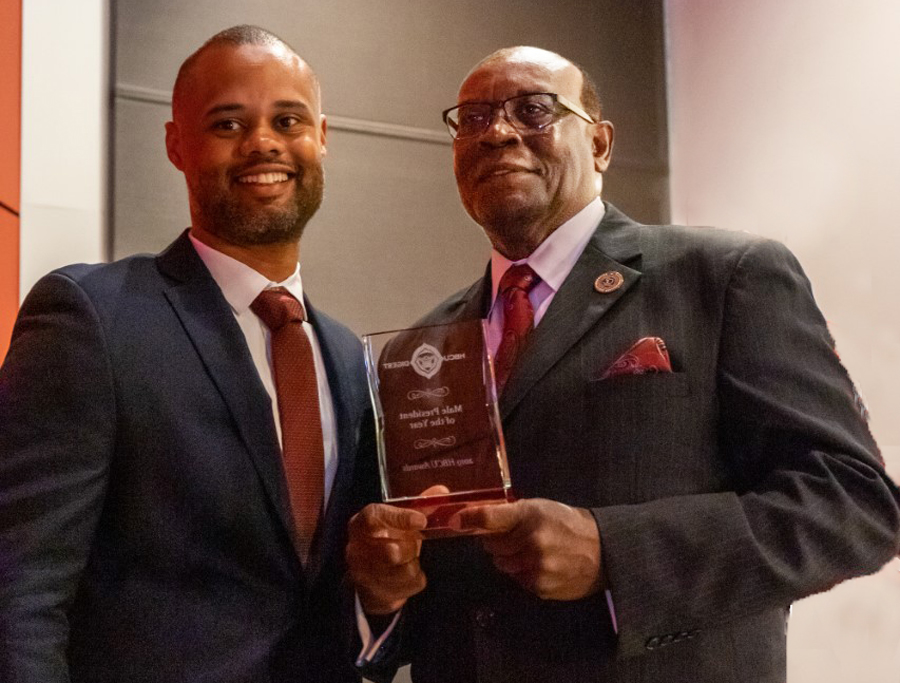 August 05, 2019
President receives HBCU Digest Top Honor
It was a spectacular night for Alabama A&M University (AAMU) at the annual HBCU Digest Awards at the Reginald F. Lewis Museum of Maryland African American History & Culture in Baltimore, Md.
The night filled with anticipation as HBCU representatives from around the nation packed the museum in hopes of winning an award. AAMU brimmed with excitement as the University was a finalist for Board of Trustees of the Year, Male President of the Year, and National Alumni Association of the Year.
Once the night was over, Alabama A&M walked away with the Male President of the Year, an honor bestowed to President Andrew Hugine, Jr. The timing was perfect, as Hugine, in June, celebrated the close of 10 years at Alabama A&M University.
"I am certainly grateful to be named Male President of the Year by HBCU Digest," commented Hugine, when asked about the accomplishment. "However, I am even more grateful to have a tremendous team at Alabama A&M and a wife that has supported me over the length of my career."
Hugine was joined by members of the AAMU board, alumni, and colleagues. President Pro Tempore of the Board, Dr. Jerome B. Williams, noted, "President Hugine has done a tremendous job of turning the institution around. We have made significant strides in a number of key areas, including fiscal stability, fundraising, enrollment, capital improvements, and expansion of academic programs. There is no president more deserving of this accomplishment." Other trustees in attendance included: Dr. Scherrie Banks and Dr. Wayne Watts.
AAMU's accomplishments over the last year include, but are not limited to:
#1 producer of STEM graduates in Alabama

Enrollment growth to more than 6,100 students

Opened new residence hall after securing $96 million capital financing loan

Secured first state appropriation for capital improvements in the last 20 years

$5 million raised in private support

11.

6% alumni giving rate

,

which remains consistently above the national average

Record $500k+ raised for annual scholarship gala

Expanded endowment to approximately $50 million

Increased salaries campus-wide to ensure market competiveness

Top 10 distinction as a military friendly institution
CAPTION: HBCU Digest's Jarrett Carter makes presentation to Dr. Andrew Hugine, Jr., president of Alabama A&M University.