Alumni Luncheon Honors Service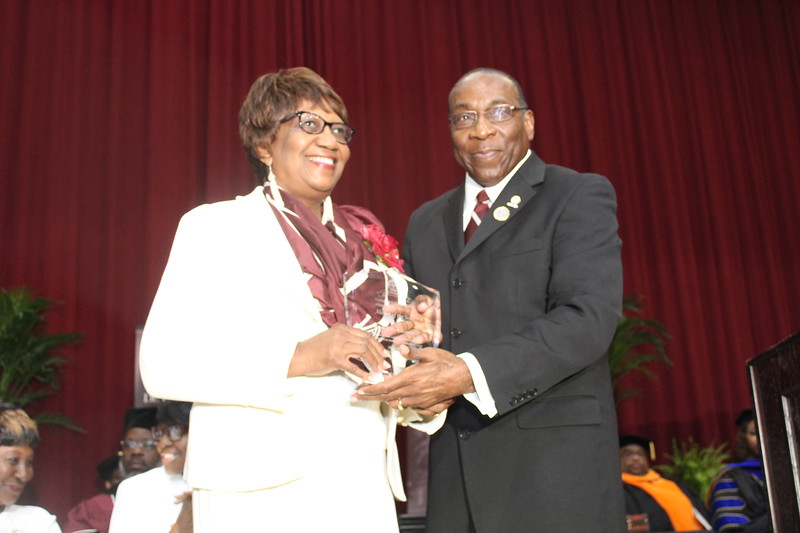 May 07, 2019
Hrobowski among alums receiving awards from AAMU
The May 4 Alabama A&M University Alumni Association, Inc. Awards Luncheon paid special tribute to Normalites, as well as a non-alumni, who are making headway in helping the University fulfill its mission.
The 2019 awards were presented by Georgia S. Valrie, director emeritus of alumni affairs, who served Alabama A&M University in various capacities for more than 31 years.
Alumna of the Year honors were presented to Sarah H. Williams Hrobowski, president of the Mobile, Ala., alumni chapter, which has hosted several activities and programs in the vicinity of the port city and which experienced a 50 percent increase. A large portion of the chapter's growth was comprised of Millennials and GenX Normalites.
The Eloise Sterrs Award was presented to Sandra Lyles Jackson, who was acknowledged for her success in bridging the gap between alumni and the AAMU student body, generating scholarships, welcoming incoming students and inspiring current students through the Youth Motivation Task Force (YMTF).
One of the dedicated and hardworking chapters of the Alumni Association was recognized for significant achievements and contributions to the Alumni Association and the University. The Price, House, Gibbs Chapter Achievement Award was presented to the Huntsville-Madison County Alumni Chapter.
Head Football Coach Connell Maynor received the Association's Award of Merit for his role in engaging and interacting with associates, colleagues, business, community and religious leaders to bring resources to the University and added value to its mission statement.
Mary Mullins Napier planned and spearheaded the annual events of the Muscle Shoals Alumni Chapter, ranging from a Tea for the recruitment of AAMU students to assisting students with financial assistance and housing obstacles. For her efforts, she was awarded the Arthur Pillar Award.
For his consistency in creating and maintaining harmonious relationships for the benefit of the University and the Association, as well as supporting their initiatives, C. Lamar Sterns, Sr., received the Mamie Labon Foster Award.
The William Hooper Councill Service Award was established under the leadership of Betty D. Fletcher, past president, Alabama A&M University Alumni Association, Inc. The award recognizes individuals who contributed the most to the successful operation of his/her respective chapter. Alumni receiving the award are: Dr. Theodis Acklin, Huntsville Progressive Alumni Chapter; George Baker, Huntsville Madison County Alumni Chapter; Mary Belton, Augusta CRSA; Sadie Britt, Talladega Chapter; Adrain Butler, Washington DC Chapter; Mattie Walker Fort, Lee County; Deborah Jenkins, Southeast Alabama Area; Elisa Jones, Metro Nashville; Rufus Jordan, Tuskegee-Macon Chapter; Jesse Marye Bettis Law, Southwest Alabama Area; Marsha King Moore, Middle Georgia; Lula Nelson, Houston Chapter; Samuel Parker, Mobile Chapter; and David Thomas, Charlotte Queen City Chapter.
Dr. Alease S. Sims presented an award to Rev. Theromiles Flowers for his contributions to the Association and his local chapter, and his mentorship of engineering students.
The Georgia S. Valrie Award Student Service Award was presented to NaKayla Randolph Moore.