Long-time Minister Recalls Lasting Impact of A&M Leader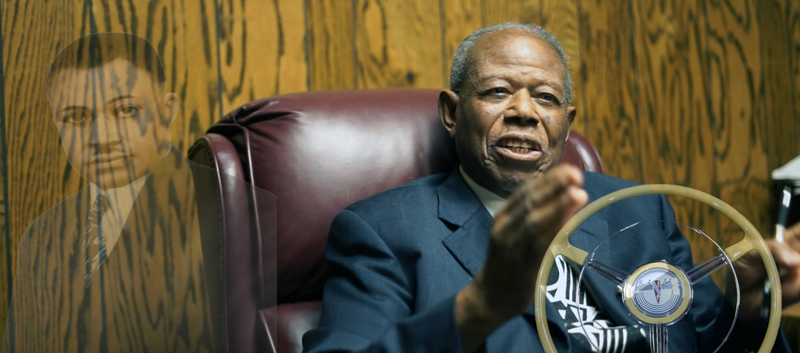 November 12, 2019
Driving Dr. Drake
(Interviewed by Dr. Annie Payton, AAMU Librarian at the Macedonia Baptist Church in Birmingham, Alabama)
Story by Jerome Saintjones
Dr. William Norwood, a native of Eutaw, Ala., was an integral part of the Alabama A&M University family as a student and driver for Dr. Joseph Fanning Drake during the mid-1940s. How did the young male, born on a farm in Greene County, who had to walk some four miles to school, become linked with such a distinguished role of transporting a college president to and from his daily affairs? Even in 2019, Norwood recalls those days as if they were only a stone's throw across a country dirt road.
Norwood, who was the valedictorian of his high school class, vividly remembers being placed to work with Dr. Simpson, who headed the men's dormitory at A&M. Norwood had only been working with Simpson for around three weeks, when President Drake "sent for me" from the office of Dr. Simpson.
"I would like for you to become my driver," Drake said to the young freshman. Naturally, Norwood jumped at the opportunity. There was no need for pondering or resting on it. Immediately, he was placed behind the wheel and was then charged with driving Dr. Drake in a beautiful black Buick to various local events around Huntsville.
But Drake wasn't just any man, Norwood stated. First and foremost, he was an exceptional educator. Further, Dr. Drake had taken on the challenge of leading a school that was fairly near closure. However, through his credible appeals and negotiations with different financial institutions and businesses of the day, Drake was able to keep the creditors at bay and made them willing to work to ensure the school's survival.
Through Norwood's unparalleled closeness to Drake, the freshman was able for a short time to see the unfolding of a phenomenally intelligent businessman who was the quintessential image of the iconic college president. What really impressed Norwood was the way Drake embodied integrity and how he pushed students to emulate those same qualities.
Drake also impressed upon Norwood the utter importance of stature and impression. He encouraged the freshman to walk upright, with shoulders straight, and in all manners of a man placed on earth to further his education and to take his proper place in society. Although it was the mid-1940s in the segregated South, a period when African-American men were accorded little respect, Drake insisted that Norwood and other A&M college students carry themselves with utmost dignity on their path "to being somebody."
Although Drake was a stickler for self-respect and believed all individuals should do their level best, no matter their station in life, Dr. Norwood recalls that Drake's demeanor was always that of a father concerned about his children. If some male wanted to become a minister, for instance, then Drake would urge that young man to take on the very best of those characteristics while still a student.
Each morning, Norwood still carries out a tradition of dressing for success and being fully prepared for any engagement of the day. He picked up the habit, he said, from Dr. Drake., who was ably aided in those many lessons by his loving wife Anne Quick Drake.
"I enjoyed driving him," noted Norwood, "because even on those rides, he would lecture me on how to survive the times. 'Be careful,' he would say. 'You don't want to be right and dead right … Your aim is to get where you plan to go.'"
Norwood said he continued to learn from those close moments. He applied many of the things Dr. Drake said to him to life's generalities. "In life you have to plan, then you have to work your plan," explained Norwood.
Those who looked upon Dr. Drake during those times saw a very dignified man and they might have taken pause on approaching him. But Norwood asserted that behind that exterior was a man who was very down-to-earth and easy to talk to.
"He was a man you could feel comfortable around," Norwood said. "Most folks did not know that about him. They only saw him in the president's image."
Geared toward ministry, Norwood would leave A&M in 1944 with recommendations for Selma University, which offered a seminary school. Even when he arrived at Selma University, Norwood was granted the job of driving the president there and lived in the president's residence. The Selma University of that day had a rigorous curriculum awaiting the undergraduate seeking to enter seminary. It required that the entrant complete several years of Latin, two years of Greek, two years of Hebrew, complete advanced American literature, and then write one's own oration.
He learned from Dr. Drake the importance of having respect for those who have lessons to give. "If you know more than the teacher, then you have no business in that class," Norwood said. Those many life lessons helped Norwood sail through Selma University, where he received was assignment for his first full-time church (First Baptist) in Uniontown, Ala., when he was still a student.
Looking back at the more than 90 years of people, situations and institutions that made him, Rev. Norwood admits that the ministry, family, the discipline of farm life, A&M, and Selma have been good to him. Still, he attributes a great deal of his successes to Dr. Drake, who told him, "Always give it your best."