AAMU Students Compete at MANRRS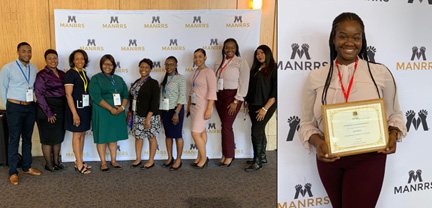 April 18, 2019
Leaving Kansas: MANRRS Students Compete Well
The AAMU Morrison Chapter of Minorities in Agriculture, Natural Resources and Related Sciences (MANRRS) was represented at the 34th MANRRS Annual Career Fair and Training Conference in Overland Park, Kans., from April 3-6.
Students from the Department of Biological & Environmental Sciences and the Department of Food & Animal Sciences competed in the Undergraduate and Graduate Student Oral and Poster Presentation Competitions and the Cargill Case Study Challenge. Jayla Pettway, a sophomore in environmental science, earned first place in the Undergraduate Oral Research Competition (Advisor: Dr. Dedrick Davis). Awards were presented on Saturday, April 6, during the awards ceremony.
MANRRS promotes academic and professional advancement by empowering minorities in agriculture, natural resources, and related sciences. MANRRS is open to all students in all majors. The AAMU Morrison MANRRS Chapter is advised by Dr. Dedrick Davis and Dr. Armitra Jackson-Davis. Any advisor or member can be contacted for additional information.
Group Photo: Hines Croshon, Alescia King, Dr. Armitra Jackson-Davis, Jealae Jackson, Silvadnie Quainoo, Vanessa Kishasha, Dalais Bailey, Jayla Pettway, and Kristina Burns. Second Photo: Jayla Pettway holds first place certificate in the Undergraduate Oral Research Competition.