Noyce Scholars Complete Summer Internship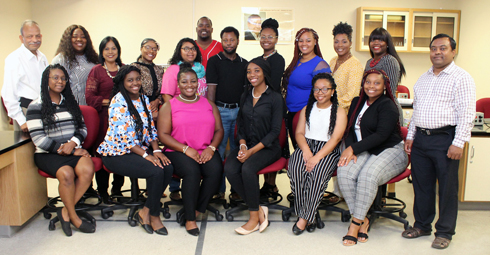 August 13, 2019
Summer Program Ends with Student Presentations
Participants in the nearly two-week long Alabama A&M University's Robert Noyce Teacher Scholarship Program wrapped up a summer internship experience with a series of presentations.
The National Science Foundation-sponsored program offered up to $36,000 in scholarships for physics, chemistry, biology and mathematics major who were also pursuing a teaching certification while completing their degrees. The grant award was named in honor of the Robert Noyce, a physicist who co-founded the Intel Corporation in 1968.
Campus facilitators for the program include Drs. Salam Khan (coordinator), Samantha Strachan, Manmohan Aggarwal, Fayequa Majid and Florence Okafor.
For additional information about the Noyce program, please contact Dr. Khan, associate professor of mathematics, at (256) 372-4838.