A&M's Library Presenting Work of Noted Photographer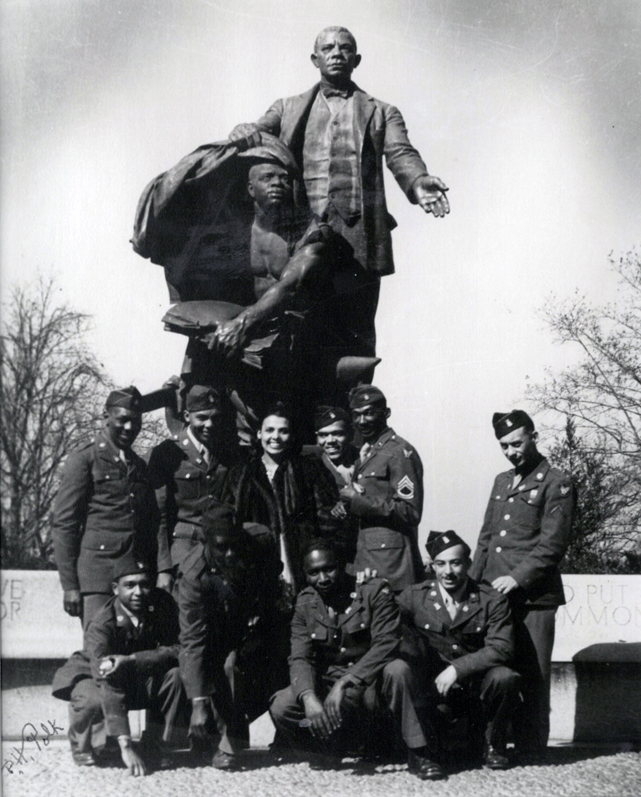 October 31, 2019
Tuskegee Photographer P.H. Polk on Display
Alabama A&M University's J.F. Drake Memorial Learning Resources Center (LRC) is hosting "Unframed Images: Photography from the Collection of P. H. Polk" from September 16-October 31. The exhibit will be open for viewing during library hours seven days a week.
Prentice Herman ("P.H.") Polk was the longtime photographer for Tuskegee University, and many of his photographs are displayed in the Smithsonian Museum in Washington, D.C. AAMU's LRC is offering the showing as part of its observance and participation in the ongoing Alabama Bicentennial celebration. The Polk collection at LRC is made possible through a partnership with Tuskegee University, Mississippi State University Libraries and the Southern Literary Trail.
For additional information, contact Dr. Annie M. Payton at (256) 372-5007 or Harvey Long (256) 372-4728.
Caption: Singer/actress Lena Horne with members of the Tuskegee Airmen in front of the "Lifting the Veil" statue of Booker T. Washington, located in the center of Tuskegee University. (Photo image courtesy of the State Black Archive, Research Center and Museum at Alabama A&M University)