Staffer Honored by YMTF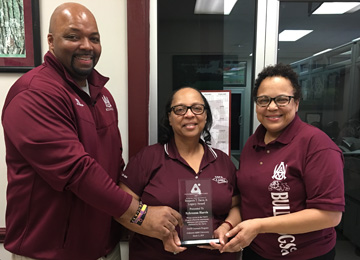 May 07, 2019
YMTF recognizes long-time staffer for dedication
Sybrenna Harris of the Office of Student Financial Aid was honored by the Youth Motivation Task Force and Career Development Services for her long-time support of the YMTF program.
Harris received the Benjamin T. Davis, Jr., Legacy Award, presented only to those individuals whose service to the organization "reflects the commitment, endurane and compassion displayed" by Davis, an AAMU alumnus and ardent supporter of YMTF initiatives.
Caption: Harris (c) receives award from Darryl Jackson, director of student financial aid, and Yvette Clayton, director of Career Development Services.
(Photo by Debra Daniel)