STEM Alum Chosen Ambassador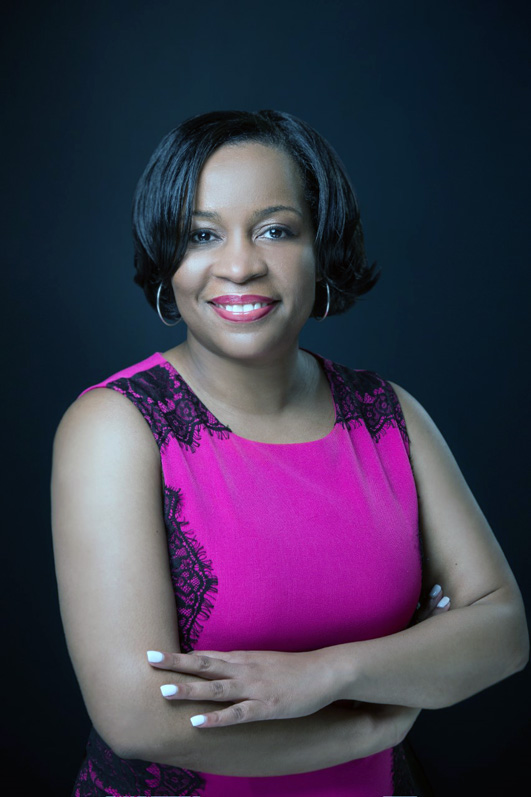 October 17, 2019
Advancing Women in STEM
Dr. Adrienne Starks, founder and CEO of STREAM Innovations, has been selected as one of the 125 AAAS (American Association for the Advancement of Science) IF/THEN® Ambassadors. IF/THEN®, a national initiative of Lyda Hill Philanthropies, seeks to further women in science, technology, engineering and mathematics (STEM) by empowering current innovators and inspiring the next generation of pioneers.
"We firmly believe that IF we support a woman in STEM, THEN she can change the world," said Lyda Hill, founder of Lyda Hill Philanthropies. "The goal of IF/THEN® is to shift the way our country—and the world—thinks about women in STEM, and this requires changing the narratives about women STEM professionals and improving their visibility."
To achieve this goal, AAAS IF/THEN® Ambassadors will connect with students in person and through various media platforms, including popular YouTube channels and network television shows. The Ambassadors are contemporary role models who represent a diversity of STEM-related professions in the United States, from entertainment, fashion, sports, business and academia.
"AAAS is deeply committed to advancing education and opportunities for girls and women in STEM," said Margaret Hamburg, chair of the AAAS Board of Directors. "This partnership enables us to reach more deeply into STEM education and help advance STEM careers for women and girls. It will help us to elevate the voices of women working in STEM fields and to inspire the next generation of girls and women in science."
"Dr. Starks is one of two AAAS IF/THEN® Ambassadors from Alabama, and we believe she will represent our state well with her vision for STREAM Innovations and supporting students in STEM across Alabama. I have been honored to serve STREAM Innovations through her vision to inspire the next generation of Innovators," said O. Tameka Wren, Esq., vice president of HR Business, BBVA, and vice president of the board of directors, STREAM Innovations.
Dr. Starks received a B.S. degree in biology from Alabama A&M University (AAMU) and a Ph.D. in biological sciences from the University of Maryland Baltimore County (UMBC). Her doctoral research focused on genetic variation influencing aging and quantitative traits in Drosophila melanogaster.
She transitioned from fly genetics to study human variation in disease in her postdoctoral fellowship at the National Institutes of Health (NIH) at the National Cancer Institute (NCI). There she focused on cancer disparities between African Americans and European Americans. While at NCI, Dr. Starks investigated how stress impacts tumor microenvironments by contributing to increased breast and prostate cancer mortality rates for African-Americans.
These training experiences afforded her an opportunity to lead projects in the areas of basic and translational science, bioinformatics, and epidemiological research. Working on these various projects provided her with an understanding for the importance of an interdisciplinary team science approach to problem solving that she now applies to work in STEM education and community-based inequities efforts.
While completing her biomedical training at the National Institutes of Health, the nation's most prestigious federal biomedical research agency, she believed there was a lack of significant representation of underrepresented minorities and women. This reality has become the catalyst for her desire to promote scientific exploration and innovation for students within her hometown in Alabama to successfully pursue STEM careers.
The IF/THEN® Collection, a digital asset library of photos and custom content, will be created as a tool to increase the number of accurate and powerful images of real women and girls in STEM. The robust collection can be accessed by media, educators and nonprofit organizations as they develop and share inspiring content and curriculum. AAAS IF/THEN® Ambassadors were selected through a rigorous selection process. For a complete list of Ambassadors, go to www.ifthenshecan.org/ambassadors.