Testing Services Adapts to New Location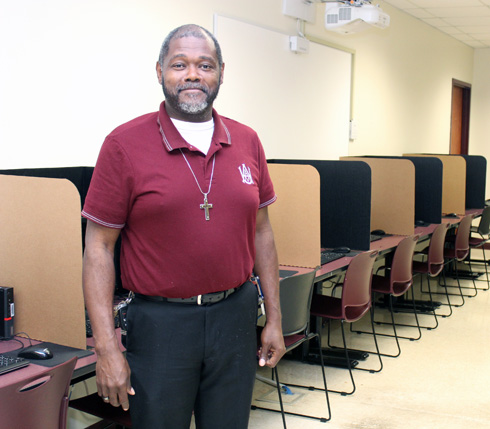 August 10, 2019
Important academic vehicle gets its own test drive
One of Alabama A&M University's key intermediary academic units welcomes the growing pains as it works to gradually adapt to a new location.
Testing Services, directed by Alfonso A. A. Smith II, is now situated in 125 J.F. Drake Memorial Learning Resources Center, a move that allows needed expansion to conduct such operations as secondary placement for new students; online proctoring for AAMU's online courses (as well as for distance education offered at other institutions); and ACT Residual test taking for students requiring higher scores for AAMU admission—to name a few.
"We hope to become Pearson Vue-certified, to match our Prometric certification, which will enable us to offer GED and Licensure exams," said Smith. "Through ETS and Prometric, we currently offer PRAXIS (a series of American teacher certification exams written and administered by the Educational Testing Service) and TOEFL (Teaching of English as a Foreign Language) at 25-person capacity per session."
However, when all of the office's services are tallied throughout the year, Smith said over 4,000 participants on- and off-campus are impacted in some way by the unit.
Testing Services already offers the CLEP exam for students seeking to take advantage of acquiring credit by examination, and it plans to offer the same service over the next year via the DSST exam, Smith said.
"We collaborate with Veterans Affairs and Disability Services; the College of Business and Public Affairs; and the College of Education, Humanities and Behavioral Sciences," Smith added, noting the office's important provision of exit exams at the undergraduate level and comprehensive exams at the graduate level, in addition to its role as a repository for several test scores, among them the GED.
For more information about Testing Services, call (256) 372-5653.
- J. Saintjones
Caption: Alfonso Smith II in foreground of one of his lab areas.