Thigpen Ribbon Cutting Scheduled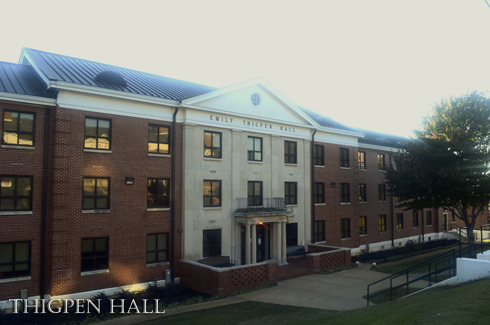 August 19, 2019
Calling lovers of Old Thigpen!
Are you among the many Normalites who enjoyed their days within the halls of Thigpen? If so, or even if you're a part of the haters, then you are invited to the Ribbon Cutting Ceremony for newly renovated Thigpen Residence Hall. Join the AAMU Family on Monday, August 19, at 2 p.m. to see the many improvements and features.
In 1936, Placidia Emily Thigpen, a graduate of Hampton Institute and the University of Iowa, became Supervisor of Education at Alabama A&M University. She was named Dean of Women at AAMU in 1944, and she served in that capacity until 1951. She remained on the faculty of A&M until her death in November 1954.
Thigpen Hall is named in honor of one of the University's most respected and recognized staff members. The 1957 yearbook, The Heritage, was dedicated to her, and she was described as a woman who "helped thousands of Normalites as a teacher and Dean of Women, inculcating in them high moral standards."
Thigpen was a "profound believer in tradition and symbolism … and was the epitome of dignity at all times."