TMCF, AAMU Honors Program Announce New Fellowship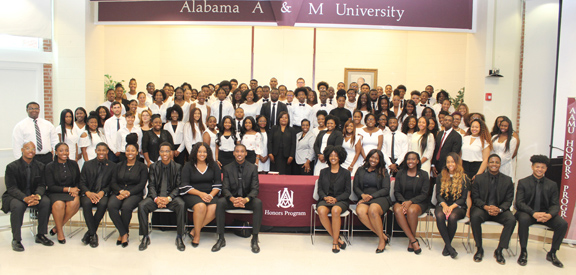 November 06, 2019
Targeting "Graduate" Students
The Thurgood Marshall College Fund and Alabama A&M University's Honors Program are urging AAMU graduate students to take part in the new $10 million Hennessy Fellows initiative. Students interested in the new program are invited to attend an informational seminar on Thursday, November 7, from 5-5:45 p.m. Contact the Honors Program at (256) 372-5385 for location.
The Hennessy Fellows initiative is designed for high achieving graduate students from AAMU and other historically black colleges and universities (HBCUs) to provide corporate development experiences and financial assistance.
According to Carla Draper Holloway, assistant director of AAMU's Honors Program, the Hennessy Fellows program will include online training forums, an immersive boot camp, and networking opportunities.
Selected fellows will receive a scholarship up to $20,000 per academic year and a $10,000 stipend. Students with at least four semesters of coursework remaining prior to graduating, currently enrolled at an HBCU with a minimum GPA of 3.25, and who have leadership experience, strong ethical and moral character, academic excellence, and cultural awareness are encouraged to apply.
Eligibility Requirements:​
Must be 21 years of age or older at the time of application
Currently enrolled in an accredited corporate-relevant HBCU graduate program(see eligible programs below): Business, Finance, Marketing, Communications/Public Relations, Technology, Engineering, Supply Chain, Law, Accounting, Math, Economics, Political Science, Human Resources, Graphic Arts/Design, Psychology
Minimum 3.25 GPA
Must be a U.S. Citizen or permanent resident or international student on F1 Visa
Must have at least 4 semesters of coursework remaining prior to graduation
Desire to have an impact on his or her community, society at large, and "pay it forward"
Must be able to participate in and successfully complete all program-related activities
Must remain in good academic standing
Not contractually committed to working full-time with an employer post-graduation