Two from AAMU Honored by Local Athletic Organization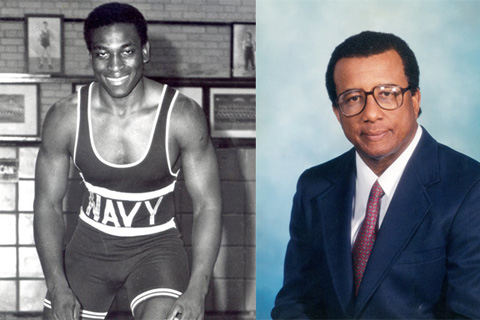 April 27, 2019
Scissum, Rice Honored by Madison County AHOF
Forty years is a long time, but organizers of the 2019 Madison County Athletic Hall of Fame in one night clearly spanned them to recapture the memories of an Alabama A&M University staffer and a former professor.
Adolph Scissum (left) is current director of user services for Alabama A&M University's Information Technology Services and son of "Hidden Figures" space scientist and mathematician Jeanette Scissum. Widely known for his skills in arbitration, Dr. Horace Rice (right) served as a professor in AAMU's College of Business and Public Affairs.
In the mid 1970s, young Scissum played football at Chapman Middle School. He later tried out for the basketball team but was cut. A coach motivated him to go into wrestling. After a rather sloppy start, his determination helped him to improve his game. By 1977, he represented Lee High School and was second runner-up in the wrestling state championships. In 1978, he secured the state championship for wrestling and an overall match record of 73-7-2.
"I think it's kind of neat," answered Scissum, the second of four children, commenting on his thoughts about the honor. His brother Willard is a member of the Hall of Fame, as well, cited for his contributions to football at Alabama, his All SEC honors and team accomplishments during the last two years of legendary Coach Paul "Bear" Bryant.
Offered appointments to West Point, Annapolis, and the Air Force Academy, he chose Navy, where he became a three-year varsity wrestling letterman from 1980-82. After his military career, he returned to Huntsville and eventually started his own company before accepting a job at Alabama A&M.
Although Scissum left the Huntsville area for about four years and tried to form a career in Washington, D.C., he returned to the Rocket City, where all three of his sons graduated from Lee. Christopher, his oldest son, briefly followed in his footsteps and wrestled at Lee for a year.
Scissum began working at A&M 22 years ago, starting out as a PC technician.
According to the Hall of Fame, Dr. Rice is widely regarded as the second finest African-American tennis player the city of Huntsville ever produced, trailing only former professional Bryan Shelton, who was inducted into the Huntsville-Madison County Athletic Hall of Fame in 2006.
Rice, a graduate of Councill High School and Alabama A&M, was a top junior player in the late 1950s and early '60s, winning his first adult tournament as a high school senior. From 1975-2005, he was among the top-ranked players in Alabama from the 35-under to 65-under age groups. From 1978-2010, he won numerous singles, doubles, and mixed doubles trophies in Huntsville and six other Alabama cities, and has won several gold medals in the Alabama Senior Olympics.
Now 74, Rice is retired from the AAMU faculty, where he taught business law and ethics.